Pierce Brosnan Reunites With 'Mrs. Doubtfire' Child Stars 25 Years Later
By James Dinh
October 25, 2018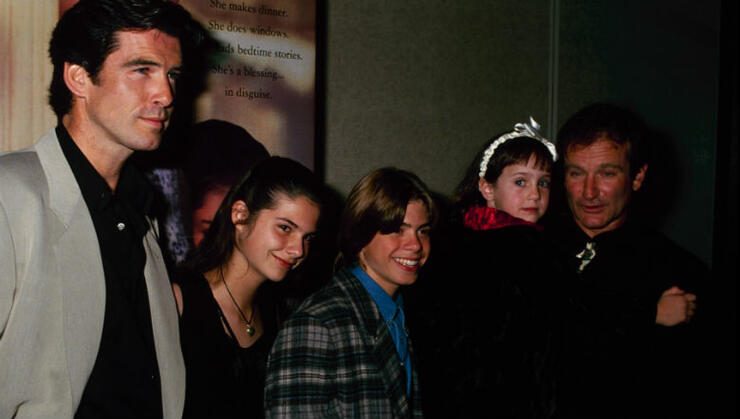 Surprise, surprise: Pierce Brosnan reunited with his three Mrs. Doubtfire co-stars that he worked with in the beloved film 25 years ago.
On Wednesday (October 24), the 65-year-old actor met up with Matthew Lawrence, Mara Wilson and Lisa Jakub at a restaurant in Los Angeles. Jakub, who played the oldest of the children in the Robin Williams classic, took to Twitter to share the hot shot and our '90s hearts couldn't be happier. "So this just happened. #mrsdoubtfire #reunion #25yearslater," the 39-year-old star captioned the photo.
In another post, Brosnan held a camera up to his phone to show a throwback shot of the trio as children at the 1993 premiere of the film. "Here you go: At the premiere of Mrs. Doubtfire and here we are, we pull back slowly, tada!" he said. "Love you, love you all so much. So good to be a part of your lives. I want to get into the picture as well."
Prior to the big reunion, Jakub teased something was in the works when she shared a post of herself in an airport. "So I feel like I pretty much live in hotels and airports these days," she said. "So hi from another airport. I am on my way to Los Angeles and I am doing that because of a certain significant anniversary that is coming up next month and, uh, a couple of fake siblings that I used to have. Any guesses? I am super excited by the way. More to come on this so stay tuned. Bye."
Mrs. Doubtfire earned over $200 million at the U.S. box office and celebrates its 25th anniversary on November 24.
Chat About Pierce Brosnan Reunites With 'Mrs. Doubtfire' Child Stars 25 Years Later