10 Alternative Christmas Songs to Amp Up Your Holiday Playlist
By Katrina Nattress
October 26, 2018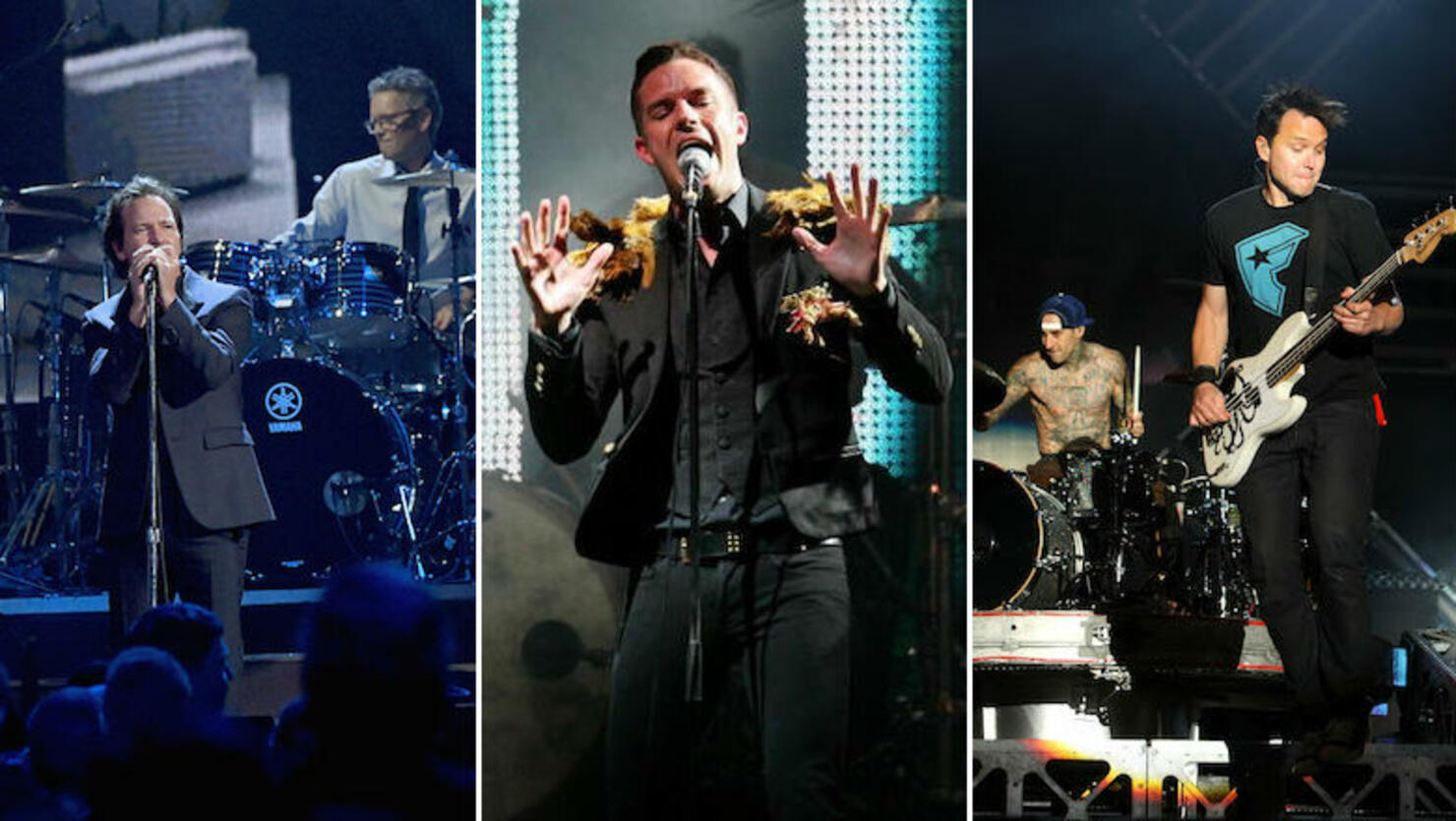 Alternative rock probably isn't the first genre that comes to mind when thinking about Christmas music, but some of the most iconic bands have penned their own festive (or sometimes not-so-festive) Yuletide tunes. From blink-182's grumpy "I Won't Be Home For Christmas" to The Killers' ode to youth, "A Great Big Sled," these are the essential alt songs for your holiday playlist.


No Doubt - "Oi the the World"
Okay so technically this is a cover of The Vandals' punk rock Christmas tune, but we just can't help but favor No Doubt's ska-flavored version. When the band was asked to contribute a song to the A Very Special Christmas compilation in 1996, they opted to cover their fellow SoCal punk rockers' anthem about punks and skinheads getting along on Christmas Day.
Cheap Trick - "I Want You For Christmas"
When Cheap Trick was asked to write a song for A Very Special Christmas: 25 Years Bringing Joy to the World in 2012, the rockers didn't get all too creative. Instead of penning a brand new song, they readjusted the lyrics of their 1977 hit "I Want You to Want Me" to fit the holiday theme. Though some might find this lazy, the result is a Christmas song that's easy to sing (or at least hum) along to upon first listen, since it follows the original note for note.
Smashing Pumpkins - "Christmastime"
Smashing Pumpkins is another band that was chosen to contribute to A Very Special Christmas during the '90s. Its 1997 contribution was "Christmastime," a truly magical song that sees a softer side of Billy Corgan as he sings of the whimsy that comes with Christmas atop strings and bells.
The Killers - "A Great Big Sled"
The Killers released a Christmas song a year for 11 years, so there's a lot to choose from in their holiday repertoire. But we had to go with the tune that started it all, "A Great Big Sled." The 2006 track sees Brandon Flowers singing about the innocent joys of youth and kicked off over a decade of festive, often times hilarious, tunes that all eventually were compiled into Don't Waste Your Wishes, an album thats proceeds all benefit the Product Red campaign.
Pearl Jam - "Let Me Sleep"
Pearl Jam's contribution to the Christmas song canon isn't so merry or bright, but it's a magnificent track. In "Let Me Sleep" Eddie Vedder sings the story of a drifter freezing in the cold who, after reminiscing of the joy the holiday brought him in his youth, begs "oh, please just let me sleep, it's Christmas time."
Beck - "The Little Drum Machine Boy"
Before Beck infamously became a Scientologist, he was raised celebrating Jewish holidays. That upbringing gave us this bizarre Hanukkah/Christmas mashup called "The Little Drum Machine Boy." Though parts of the song mirror the melody of the classic Christmas carol "Little Drummer Boy," Beck's 1996 contribution to Just Say Noël also features the singer-songwriter exclaiming "Hanukkah pimp!" on several occasions, as well as a robotic voice chanting Jewish prayers. All that being said, this is a song you can't help but love.
Fall Out Boy - "Yule Shoot Your Eye Out"
Other than being a great shout out to A Christmas Story, Fall Out Boy's a bitter break up anthem about not wanting to see your ex during the holidays. "Don't come home for Christmas/ You're the last thing I want to see/ Underneath the tree," Patrick Stump sings in the chorus. "Merry Christmas, I could care less." Ouch!
Panic! At The Disco - "Feels Like Christmas"
In 2017, Panic! At The Disco gave us all a wonderful Christmas present in the form of "Feels Like Christmas." The upbeat, feel-good tune compares love to Christmas day, and as sappy as that sounds Brendon Urie can make even the biggest Scrooge get in the Yuletide spirit. "Thank you all for making this year my favorite so far," he wrote in the song's YouTube description. "Through the hard times and the beautiful moments, I'm glad we're always there to lift each other up. I'm so excited for the new year and what's to come." D'awww!
blink-182 - "I Won't Be Home For Christmas"
blink-182 wrote the grinch-iest Christmas song of all time, and oh how we love it so. Though it never made it onto an album, 1997's "I Won't Be Home For Christmas" is a hooky anti-Christmas carol. It's so hard not to sing along with Mark Hoppus when he laments "It's Christmas time, again/ It's time to be nice to the people you can't stand all year/ I'm growing tired of all this Christmas cheer," in the chorus before admitting "You people scare me/ Please stay away from my home/ If you don't wanna get beat down/ Just leave the presents and let me be alone."
Phoenix - "Alone on Christmas Day"
When Bill Murray released his Netflix holiday special A Very Murray Christmas in 2015, he recruited a handful of stars to help spread the Christmas cheer (or lack thereof). Phoenix played a a group of chef that Murray asked to "play something that nobody knows" at the Carlyle hotel. The Parisian indie rockers then broke into "Alone on Christmas Day," a song that was originally penned by The Beach Boys in 1979 but was never formally released.