Here's What We Know About Pipe Bomb Suspect Cesar Sayoc Jr.
By RJ Johnson - @rickerthewriter
October 26, 2018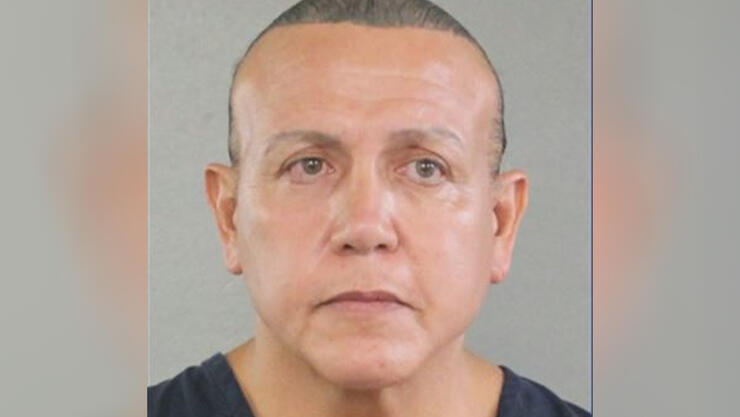 Authorities arrested Cesar Sayoc Jr. 56, in connection with a series of pipe bombs mailed to prominent Democrats and critics of President Donald Trump. Attorney General Jeff Sessions said Sayoc has been charged with five crimes including the illegal mailing of explosives.
Interstate transportation of an explosive
Illegal mailing of explosives
Threats against former presidents and other persons
Threatening interstate communications
Assaulting current and former federal officers
Sayoc was arrested at an auto parts store in Plantation, Florida, officials said. Sayoc is a former New Yorker who now lives in Aventura, Florida, not far from where authorities arrested him Friday morning.
Officials say DNA found on at least one of the envelopes sent in the last week helped investigators determine Sayoc was the person they were looking for law enforcement officials told CNN. Sayoc's fingerprint was also discovered on one of the packages sent to Rep. Maxine Waters.
The devices were all similar in appearance and contained potentially explosive devices. FBI Director Christopher Wray told reporters during a press conference Friday that they were not "hoax devices."
"Though we're still analyzing the devices in our laboratory, these are not hoax devices," Wray said.
According to Wray, the devices were "roughly six inches of PVC pipe, a small clock, a battery, some wiring and what is known as energetic material, which is essentially potential explosives and material that give off heat and energy through a reaction to heat, shock or friction."
The packages were mailed in plain manila envelopes with a bubble wrap interior and used a return address for "DEBBIE WASSERMAN SHULTZ", misspelling the congresswoman's name.
Social media accounts appearing to belong to Sayoc showed the suspect at multiple "Make America Great Again" Trump rallies, holding signs and taking photos that appeared to endorse the president.
Court records show an extensive criminal history for Sayoc, who had a history of arrests that dates back to 1991. He was convicted of theft, stolen property, and traffic charges and in 2002 for threatening to "throw, place, project, or discharge any destructive device."
He was also arrested in 1999 for possession of a stolen vehicle according to the Mecklenburg County Sheriff's Office in North Carolina.
Sayoc was convicted in 2002 of threatening to throw a bomb while speaking with a representative for a Florida utility. According to ABC News, his Miami attorney who represented him says Sayoc "made a verbal threat when he was frustrated at a lack of service."
According to Dade County records, Sayoc served a year of probation and a judge signed a discharge certificate in November 2002.
TMZ reports that Sayoc worked for Gold Productions, a touring company that uses the Chippendales name and has been sued multiple times by the real company.
Law enforcement also seized a white van that had political stickers covering several windows of the vehicle. Aerial footage showed several of the stickers which included an assortment of American flags, and photos of President Donald Trump and Vice President Michael Pence.
Sayoc was a registered Republican who first registered to vote in Florida in 2016.
A tarp was used to cover the van while FBI officials used a flatbed truck to tow the vehicle to an FBI field office.
At least 13 suspicious devices were sent to prominent Democrats, media organizations and critics of President Trump since Monday. Two suspicious packages were discovered this morning, one at a postal mail facility in New York addressed to the former Director of National Intelligence James Clapper, and another at a Florida mail facility that was addressed to New Jersey Senator Cory Booker.
Authorities have discovered 13 packages containing explosive devices so far, all of which have contained pipe bombs.
Billionaire investor and Democratic Donor George Soros
Former Secretary of State Hillary Clinton
Former President Barack Obama
Former CIA Director John Brennan (sent to CNN's offices)
Former Attorney General Eric Holder (found at Rep. Debbie Wasserman Schultz's office in Florida)
(2) Rep. Maxine Waters (One package sent to her office in Washington D.C. and another was found at a postal facility in Los Angeles)
Actor-Director Robert De Niro
(2) Joe Biden (two packages were discovered at a Wilmington, Delaware postal facility).
Former Director of National Intelligence James Clapper
New Jersey Senator Cory Booker
Photo: Broward County Sheriff's Office & Getty Images
Chat About Here's What We Know About Pipe Bomb Suspect Cesar Sayoc Jr.