Prince Harry Already Has The Cutest Nickname For The Royal Baby
By Emily Lee
October 29, 2018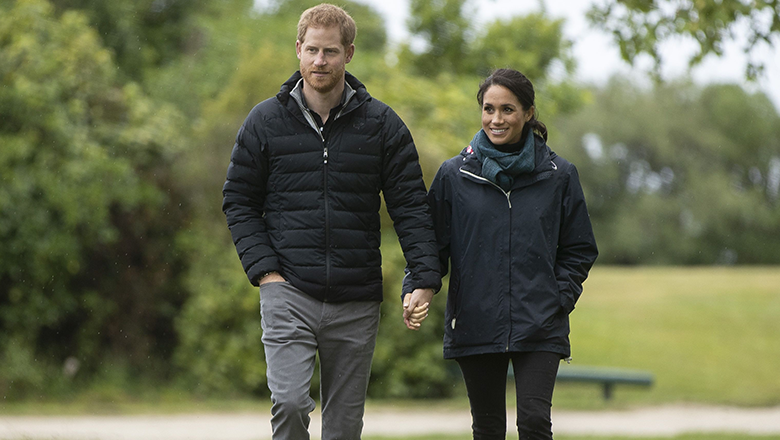 Prince Harry and Meghan Markle's royal tour of cuteness has finally reached New Zealand. Between Meghan debuting her baby bump in a gorgeous blue evening gown to the Duke and Duchess of Sussex joining an anti-bad vibes circle together, there's been no shortage of adorable moments between the parents-to-be. The world's favorite royal couple, though, might have just outdone themselves during their most recent tour stop. You might melt from the cuteness. You've been warned.
Prince Harry and Duchess Meghan visited the Abel Tasman National Park in New Zealand, where they met with the Manawhenua ki Mohua people and were greeted with traditional songs, prayers, and nose kisses. Yes, nose kisses! While those were also extremely cute, the moment we're talking about is when Prince Harry revealed he has a sweet nickname for his royal baby during his speech.
"From myself and my wife and our little bump, we are so grateful to be here," the Duke of Sussex says in the video below. The little smile he gives the crowd after is what really makes this moment a special one.
There are just two days left on Prince Marry, Duchess Meghan, and Little Bump's first royal tour as a growing family. They'll head to Auckland and Rotura for planned visits and then make the journey back to London. It's sad to see this tour come to end - we won't get as many adorable moments from the Duke and Duchess of Sussex until they hit the road again sometime in the future. While they were scheduled to tour the United States sometime in early 2019, that trip has been postponed because Meghan's due date falls in that same window of time. Hopefully, this means that when they do hop across the pond, Little Bump will be along for the ride.
Photo: Getty
Chat About Prince Harry Already Has The Cutest Nickname For The Royal Baby