J. Lo Just Showed Off Her Curves Like Never Before (Prepare Yourself)
By Lauren Crawford
October 31, 2018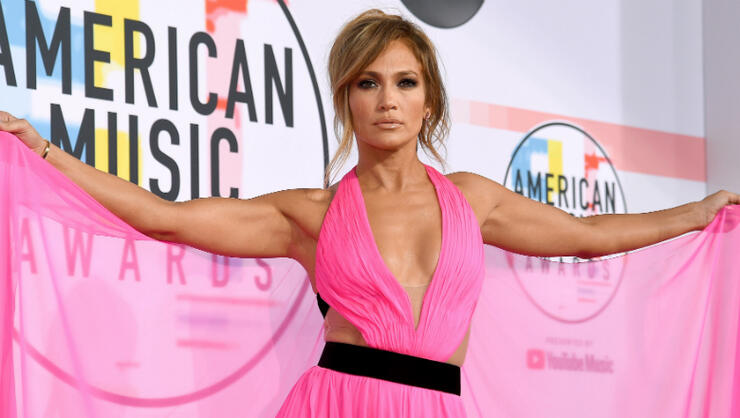 Jennifer Lopez, a.k.a. the female Benjamin Button, has done it again — inspired me to get a gym membership, I mean, broken the internet with her age-defying body.
In a new photo shoot for Instyle magazine's December issue (on newsstands November 9), the 49-year-old singer, actress, dancer, just over-all entertainer, showed off her killer body, and most notably her famous curves, in a metallic money-green Versace pleated cape, worn as a dress. The Second Act actress cupped her voluptuous derriere in one shot as she showed off her toned legs, major side-boob, and smized while the cape-dress cascaded down her fit body onto the floor. #ALook
So, exactly how has J. Lo defied science (and gravity) all these years? Well, she simply told the mag, "I've taken care of myself, and now it shows." Miss Lopez additionally credits three rules that she's lived by for years as the secret to her looking and feeling good: no caffeine, no alcohol and lots of sleep. And unlike many others who are on the cusp of 50, J. Lo said she has yet to experience the signs of flagging energy, which (in addition to her three immutable rules) she credits to her intense fitness routine, which now includes weight training after she realized she was losing muscle because she dances so much.
As for her advice for women who are also looking to better themselves, Jennifer said it's all about starting from within. "When you feel good inside you kind of like, you start pimping yourself a little, right? I get my hair done, get my nails did — it's taking care of yourself, being healthy, going to the gym, eating right, telling yourself kind things," she explained. "[Telling yourself]: 'I am youthful and timeless at every age. I am ever evolving and my life is full of joy and adventure.' Those [are the] type of things that starts inside but also manifests itself on the outside."
Chat About J. Lo Just Showed Off Her Curves Like Never Before (Prepare Yourself)