Twitter Is Loving Haim's 'Hocus Pocus' Halloween Costume: See The Videos
By Hayden Brooks
October 31, 2018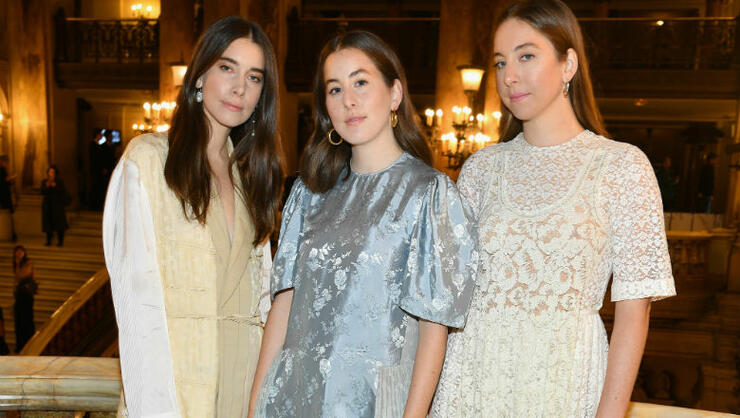 It seems like celebrities are beginning to one-up each other when it comes to Halloween costumes and the Haim sisters just entered the race with a stellar tribute to the Sanderson sisters from Hocus Pocus.
On Wednesday afternoon (October 31), Alana, Este, and Danielle traded in their signature whimsical looks for something a little more spooky and they absolutely nailed the theme. While Este went for Winifred's look, Danielle took on Sarah's ensemble and Alana captured the quintessential essence of Mary, especially with that mouth imitation. "But everyone does the Sanderson sisters!" the band captioned a clip of the trio performing the threesome's 1993 mid-film cover of "I Put A Spell On You." Earlier this week, the group took to social media to ask their followers for advice on what they should be for the 2018 occasion. "WE NEED YOUR HELP: should we be cowboys or the Sanderson sisters for halloween ?!?!" they captioned a photo of them holding brooms and a vacuum.
Needless to say, Twitter was stunned with the replica and we have the tweets to prove it. Scroll on below to see how social media reacted to Haim's Sanderson sister get-up!
I hereby launch an official petition for a hocus pocus remake starring the Haim sisters in the role of the Sanderson sisters

— Joel (@ShakenByAStorm) October 31, 2018
omg i'm literally just watching hocus pocus & now haim r the sanderson sisters love bein in sync

— lucy ☾ (@ohilucy) October 31, 2018
OMG haim as hocus pocus for Halloween 😩😩

— Erin (@erinbrotherton) October 31, 2018
HAIM AS THE SANDERSON SISTERS IS KILLING ME AND BRINGING ME BACK TO LIIIIIIFE OMG

— FKA twigs snorting lines.gif (@chineseoreo) October 31, 2018
HAIM as the Sanderson Sisters. I need nothing more.

— Rachel Taaffe (@RachelTaaffe11) October 31, 2018
If my sisters had TASTE we'd dress up as the Haim sisters and/or the Sanderson sisters for Halloween 😔

— ☀️ (@johanna1037) October 29, 2018
Chat About Twitter Is Loving Haim's 'Hocus Pocus' Halloween Costume: See The Videos