Jessica Biel Punches Jimmy Fallon For Knowing Justin Timberlake's Safe Word
By Hayden Brooks
November 2, 2018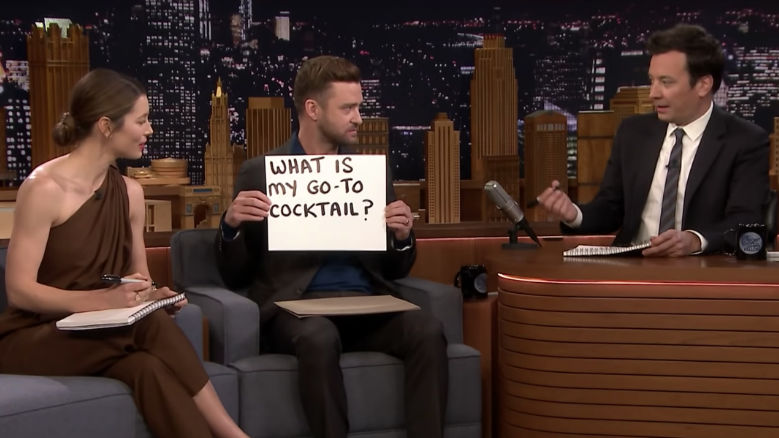 Justin Timberlake had to cancel some tour dates because of severely bruised vocal cords, but that didn't stop the pop veteran from doing some promo on The Tonight Show starring Jimmy Fallon even if he did so in silence.
Earlier this week, JT and wife Jessica Biel took to the late-night host's couches for a little round of Best Friends Challenge, which pit Biel against Fallon to see who knew the singer better. His appearance was going to be in promotion for his just-released book, Hindsight: & All the Things I Can't See in Front of Me, but it ended up in silence, at least on Timberlake's side. Throughout the six-minute skit, JT held up cards with some go-to questions that only his wife or best friend would know. From his signature cocktail to his safe word, the singer put the stars under the microscope to see just who knew more about him. We won't spoil the results, but we have a feeling that the last round of the game was entirely rigged to one of their advantages.
In case you haven't heard, Timberlake's new book arrived on Tuesday (October 30) and while it doesn't mention Britney Spears, it certainly does include talk about his 2002 breakup anthem, "Cry Me a River," which is heavily rumored to be about the pop titan. In the book, JT said that the Timbaland-produced track came to fruition pretty fast because of his intense emotions at the time. "I've been scorned. I've been pissed off," he explained in an except via PEOPLE. "I wrote 'Cry Me a River' in two hours. I didn't plan on writing it. The feelings I had were so strong that I had to write it, and I translated my feelings into a form where people could listen and, hopefully, relate to it. People heard me and they understood it because we've all been there."
Timberlake continued on, admitting that he has plenty "unconscious sources of inspiration." "One thing I've learned is that I have to let the feelings or ideas that inspire me become what they want to be," the 37-year-old continued.
Photo: YouTube/The Tonight Show Starring Jimmy Fallon
Chat About Jessica Biel Punches Jimmy Fallon For Knowing Justin Timberlake's Safe Word