Birdman & Young Thug Request Gag Order In Lil Wayne Tour Bus Shooting Case
By Peyton Blakemore
November 6, 2018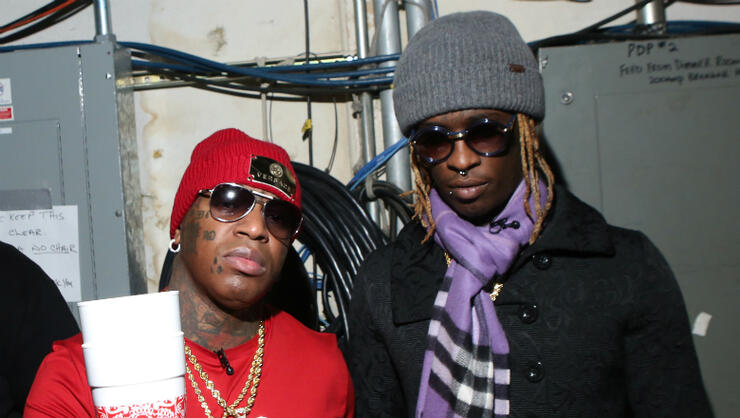 Birdman and Young Thug have asked a judge to issue a gag order in the lawsuit over the 2015 shooting of Lil Wayne's tour bus, The Blast reports. According to documents obtained by the site, the rappers additionally requested that the court silence the man who is suing them.
Last month the driver, Alvin Lewis, of Wayne's tour bus that was involved in the shooting took legal action against Birdman, Thugger, and the accused shooter Jimmy "PeeWee Roscoe" Winfrey. He alleged that the three men "conspired in the shooting," ultimately leaving him with "pain and suffering."
In Birdman and Thug's recently filed court documents they're pleading for an emergency motion to void their depositions and stop Alvin from speaking about the case publically. According to The Blast, the rappers filed the legal docs "days after a judge put the entire case on hold, ordering no further movement in the case until the court says otherwise."
In October, audio between Birdman and the accused shooter PeeWee was leaked. "It's time for you to come out here and get your money, man... You done did everything you could do, boss," Birdman said during the call, which was taken while Peewee was in jail. "It's an eye-opener, bruh... Strictly business, man." Alvin's legal team believes the call shows that Birdman conspired with PeeWee for what they're calling a "gang-related" shooting.
Despite Birdman sounding like he was congratulating PeeWee on a job well done, a source close to the Cash Money co-founder told TMZ after the call was released the phone call "was in no way referring to the bus shooting." The insider also claimed that Birdman does not believe PeeWee was the shooter. Adding, he would "never associate with someone who tried to harm Wayne."
As fans know, Wayne's tour bus was shot up in Atlanta back in 2015 after Wayne performed at a nightclub. While the bus was pulling away from the club, a white sports car pulled up beside it, opening fire "with a .40 caliber handgun and a 9mm handgun," as per the shooting's initial reports. PeeWee later pled guilty to six of the 27 counts he faced in relation to the shooting and was sentenced to 10 years in prison. However, his sentencing was overturned in 2017 after Young Thug's former manager claimed PeeWee was coerced into a guilty plea. However, PeeWee remains in custody as he awaits a new trial or possible plea deal.
Photo: Getty Images