Billie Joe Armstrong Reacts to Vince Staples' 'Dookie' Look Alike Album Art
By Katrina Nattress
November 7, 2018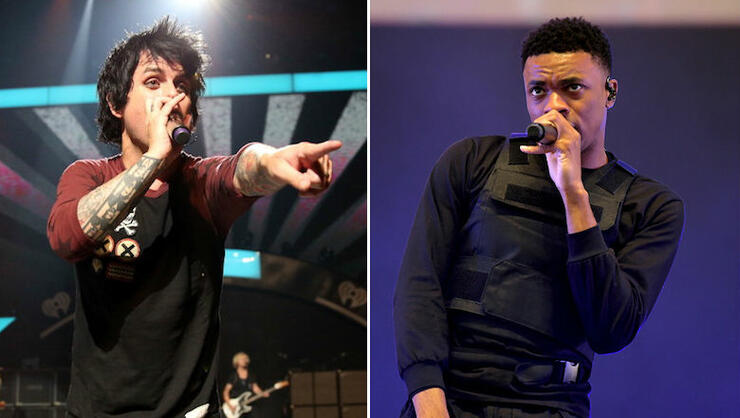 If Green Day fans get a weird sense of deja vu when they stumble upon Vince Staples' latest release, FM!, they're not alone. The illustrated cover artwork for the rapper's third studio album is eerily similar to the pop punk legends' 1994 effort, Dookie, which oddly enough was also the band's third record.
Sure, the colors are more vibrant, and the subject matter is much more optimistic (we'll take a trip to the beach over getting bombed any day), but the cartoony design gives off very similar vibes, and Green Day frontman Billie Joe Armstrong is a fan.
"I love this," he captioned a photo gallery comparing the two album covers in Instagram.
Check out the complimentary post below.
The Dookie album art was designed by East Bay artist Richie Bucher, who had nothing but nice things to say about Japanese artist Verdy taking inspiration from his work.
"I think it's really cool!," Bucher exclaimed in a recent interview. "I just looked at it a little more closely, and I gotta say, I love stuff like this. It seems really clever and respectful. I have absolutely nothing bad to say about it – I think it's really cool."
FM! dropped on November 2nd and features verses from the likes of Tyga, Earl Sweatshirt, Kamaiyah, Jay Rock, and E-40. If the album artwork truly is a nod to Green Day, maybe there's a future collaboration opportunity? Armstrong certainly seems like he'd be on board.
Photo: Getty Images
Chat About Billie Joe Armstrong Reacts to Vince Staples' 'Dookie' Look Alike Album Art