Carly Pearce and Russell Dickerson Co-Headline 'The Way Back Tour'
By Lauryn Snapp
November 7, 2018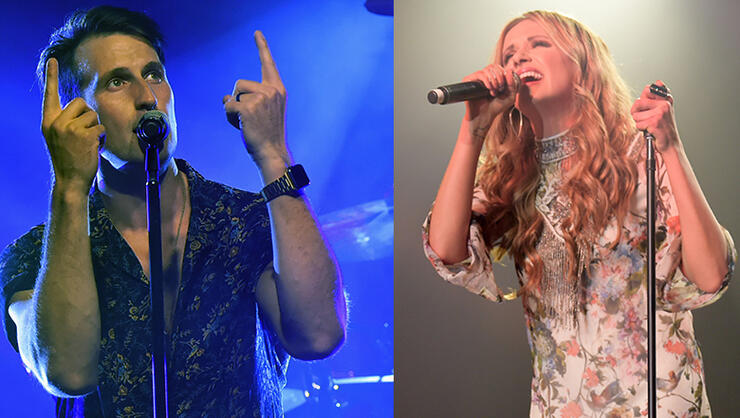 Carly Pearce has teased that she's been hard at work in the studio and that her new music may include a duet with a male artist. Country fans immediately speculated that she was referring to Michael Ray, but the plot thickens with the announcement of the "The Way Back Tour" with co-headliner, Russell Dickerson.
Russell and Carly are wheels up together for 11-dates kicking off January 24th in Cleveland, Ohio.
"Carly and I go way, way back, and we have cheered each other on for years," says Russell in a press release. "Breaking onto the scene together has been such a fun ride, so we had to book a tour together to celebrate."
Russell's depiction of "way back" is actually marked by 8 years, when they both shared a residency.
"The Every Little Thing" singer is eager to pair up with her musical comrade. "To see the evolution of our careers that have mirrored in so many ways is a dream come true. Sometimes slow and steady wins the race, and I couldn't be more proud of how far we've come."
Tickets go on sale this Friday (November 9th.)
The Way Back Tour
Jan. 24 | Cleveland, OH | House of Blues
Jan. 25 | Madison, WI | The Sylvee
Jan. 26 |Fort Wayne, IN | The Clyde Theatre
Jan. 31 | Lexington, KY | Manchester Music Hall
Feb. 2 | Myrtle Beach, SC | House of Blues
Feb. 21 | Baton Rouge, LA | Texas Club
Feb. 22 | Nacogdoches, TX | Banita Creek Hall
Feb. 23 | Tulsa, OK | Cain's Ballroom
Feb. 28 | Champaign, IL | The City Center
March 1 | Grand Rapids, MI | 20 Monroe Live
March 2 | Chicago, IL | Joe's on Weed
Photo Credit: Getty Images.
Chat About Carly Pearce and Russell Dickerson Co-Headline 'The Way Back Tour'