Emma Watson Reunited With Harry Potter Co-Star Tom Felton
By Emily Lee
November 9, 2018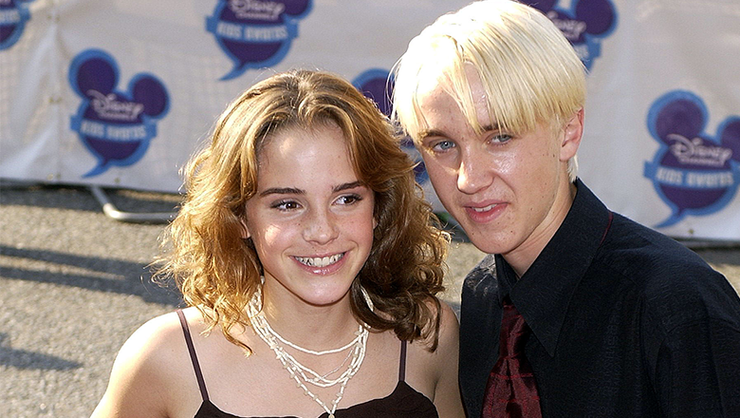 This is so magical. Emma Watson reunited with her Harry Potter co-star Tom Felton and shared it on Instagram with her followers. Not only were they all smiles in a cute beach snapshot, the longtime friends (Harry Potter and the Sorcerers Stone came out 17 years ago!) also rode on a skateboard together. I'm not sure which spell they cast to make that work, but it's very impressive!
Emma shared the photo and video of her reunion with Tom to celebrate the release of his new show Origins. "Congrats dear friend," she wrote and I'm not crying, you're crying! She also added the hilarious hashtag #TFToleratingmysubparskatingskillssince1999. In the video of them skateboarding, Tom teases Emma for "wobbling" and "dancing around the board like a clown." It's all very sweet.
What makes their lasting friendship even more adorable is that Emma has revealed she had a big crush on Tom while filming the first two Harry Potter movies. "For the first two movies, I had a huge crush on Tom Felton. He was my first crush," Emma once told Seventeen. "He totally knows. We talked about it – we still laugh about it. We are really good friends now, and that's cool."
Tom and Emma frequently take time to catch up and, luckily for the fans, they aren't shy about sharing their reunions on social media. Back in April Tom and Emma caught up with Matthew Lewis, who played Neville Longbottom, in the Harry Potter films. Tom cheekily captioned the photo "School mates #hogwartsalumni"
It's so great to see the Harry Potter cast supporting each other's careers so many years after the franchise that brought them together came to an end. Just a few weeks ago Tom stopped by Daniel Radcliffe's New York City play The Lifespan of a Fact, urging his followers to check it out for themselves. He even called his former co-star "fantastic."
Chat About Emma Watson Reunited With Harry Potter Co-Star Tom Felton