Shots Fired At Tekashi 6ix9ine, Kanye West, Nicki Minaj Music Video Shoot
By Peyton Blakemore
November 9, 2018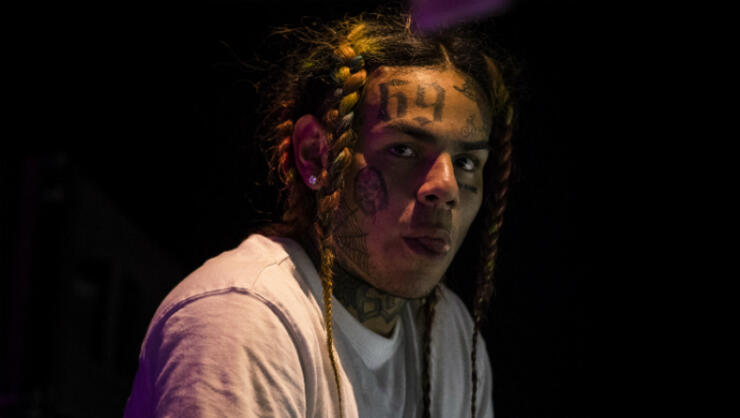 Tekashi 6ix9ine, Kanye West and Nicki Minaj are all okay after a shooting took place at a Beverly Hills home where the trio was set to film a music video on Thursday (November 8), TMZ reports.
Shots were fired while both 6ix9ine and Kanye were inside the home, however, Nicki had yet to arrive. Despite one bullet going through a bedroom window, no one was injured. A source told the gossip site about 8 shots were fired before the suspects drove off.
The trio was supposed to be filming a music video in the $80 million mansion, which is on one of the most expensive streets in Beverly Hills, for a song on 6ix9ine's upcoming album. Production was reportedly halted following the drive-by.
This isn't the first time a music video involving the 22-year-old rapper has been shot up. Back in August, during his music video shoot with 50 Cent in Brooklyn "someone in a white Porsche with New Jersey license plates fired at least 11 shots" while the rappers were on set, TMZ reported at the time. Luckily, no one was hit. Sources connected to Tekashi told the site following the shoot that they "believe[d] the shooter wasn't targeting any of the rappers." However, law enforcement officers were not so sure.
And just two weeks ago, 6ix9ine, who is currently on probation, was present for a shooting that left a hole in the stomach of one of his crew members and led to the recent arrest of his manager, Shottie. It all went down after Tekashi's Tr3way crew was denied access into a New York City restaurant. Things escalated, a brawl ensued, and an unidentified male was shot.
Photo: Getty Images
Chat About Shots Fired At Tekashi 6ix9ine, Kanye West, Nicki Minaj Music Video Shoot