'Songs That Saved My Life' Suicide Prevention LP Features Neck Deep & More
By Hayden Brooks
November 9, 2018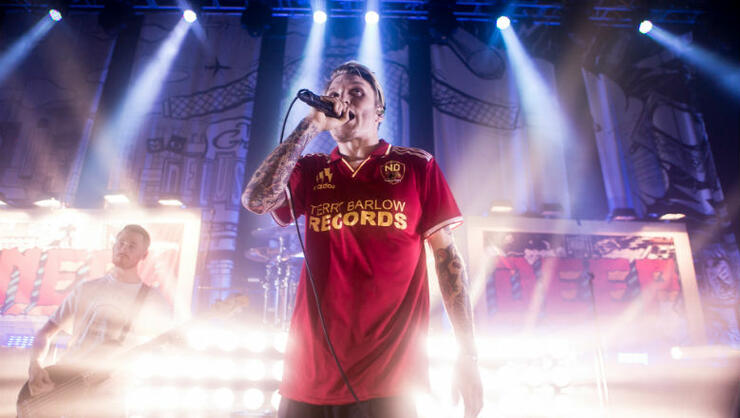 Hopeless Records along with their nonprofit organization, Sub City, is honoring World Suicide Prevention Day by releasing Songs That Saved My Life, a compilation of covers from bands like Neck Deep, Against Me!, Taking Back Sunday, Dan Campbell and Ace Enders, Movements, The Maine, Dance Gavin Dance, and more.
The 12-track album campaign kicked off with the release of the song and music video for Neck Deep's rendition of Natalie Imbruglia's "Torn." "This song is a classic for a lot people; it's actually one of my girlfriend's favorite songs ever, so we've listened to it a lot," Neck Deep lead singer Ben Barlow. "It clicked that we could cover it one day when we were on tour, eating somewhere and it came on the radio. We started singing along and quickly realized this would make an awesome cover, once we'd ND'd it."
Songs That Saved My Life's proceeds will benefit a string of charities like Crisis Text Line, Hope For The Day, The Trevor Project and To Write Love On Her Arms.
"Many of us became passionate about music, not just because it made us feel good in good times, but because of how it got us through tough times," label founder and President Louis Posen said in press release. "Songs That Saved My Life is an ongoing project of our non-profit organization, Sub City, with a goal to recognize and use the power of music to break down the stigma associated with talking about mental health and to end the suffering of our loved ones." Click here to order the album via Target.
Songs That Saved My Life Track List:
1. Neck Deep - Torn (originally made famous by Natalie Imbruglia)
2. Movements - Losing My Religion (originally made famous by R.E.M.)
3. Stand Atlantic - Your Graduation (originally made famous by Modern Baseball)
4. Dance Gavin Dance - Semi Charmed Life (originally made famous by Third Eye Blind)
5. Against Me! - People Who Died (originally made famous by The Jim Carroll Band)
6. Taking Back Sunday - Bullet With Butterfly Wings (originally made famous by SmashingPumpkins)
7. Dream State - Crawling (originally made famous by Linkin Park)
8. As It Is - Such Great Heights (originally made famous by The Postal Service)
9. Oceans Ate Alaska - Shape of my Heart (originally made famous by Sting)
10. Too Close To Touch - Let It Be (originally made famous by The Beatles)
11. Dan Campbell & Ace Enders - Broom People (originally made famous by The MountainGoats)
12. The Maine - Transatlanticism (originally made famous by Death Cab For Cutie)
Chat About 'Songs That Saved My Life' Suicide Prevention LP Features Neck Deep & More