Steve Aoki Recruits Blink-182 For 'Why Are We So Broken'
By Katrina Nattress
November 9, 2018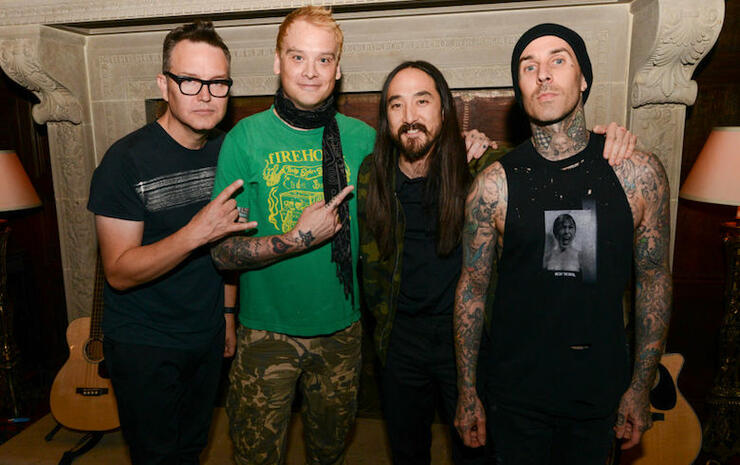 Steve Aoki dropped Neon Future III on Friday (November 9), and the genre-spanning album includes features ranging from BTS (their first full-length English song) to Lady Antebellum. But one that really took people by surprise was a collaboration with blink-182.
The famed EDM producer/DJ recruited the iconic pop-punk band for "Why Are We So Broken," and the track is the perfect blend of both genres.
After a fluttering electronic intro, Travis Barker's booming drums kick in and Matt Skiba sings sobering lyrics juxtaposed with upbeat production. He and Mark Hoppus trade off vocal duties before harmonizing together during the chorus, where they ask "Why are you so broken?"
Listen to the collaboration below.
Though this may seem like an unlikely team, Barker and Aoki have actually been friends for quite some time.
"I've been friends with Steve for over 15 years, [so] doing a song with Steve and my band just came so easy," the drummer told Alternative Press. "I think this song is a good balance between Steve Aoki and blink-182."
"blink-182 are one of my favorite bands in the world, and they happen to be some of my close friends," Aoki added. "There's nothing better than making music with good friends that inspire the hell out of you."
Photo: Getty Images
Chat About Steve Aoki Recruits Blink-182 For 'Why Are We So Broken'