Here's Your First Look At RuPaul's Episode Of 'The Simpsons'
By Hayden Brooks
November 15, 2018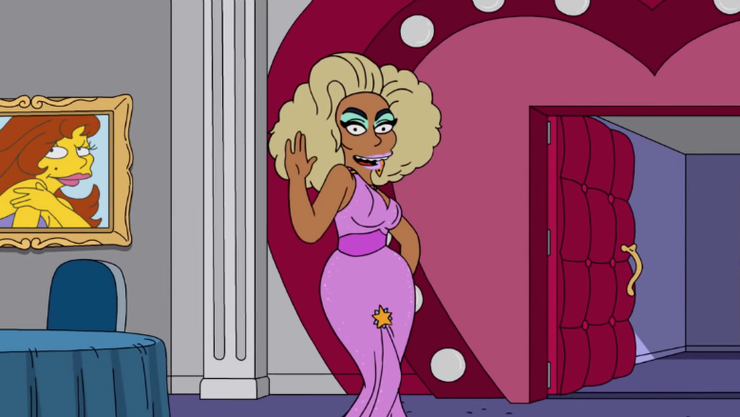 Mother Ru's cameo appearance on The Simpson doesn't air on Fox until Sunday (November 18), but the series has unveiled a preview for the upcoming episode titled "The Simpsons Are A Total Drag" to hold you over.
On Tuesday, the long-running animation released the first teaser for the episode, which shows Ru in her usual glitz and glam, while Homer dresses up in drag and accidentally works in a painful split on the runway. In addition to Ru, Season 3 Drag Race winner Raja is also set to make an appearance in the episode playing herself. "I'll never forget crying my eyes out, as rain came pouring down on the sidewalk outside the recording studio. Tears of joy," Raja wrote in her Instagram caption. "The Simpsons was a huge part of my childhood, being asked to be on an episode was surreal and mind-blowing, to say the least."
Al Jean, showrunner for The Simpsons, recently told Entertainment Weekly that the upcoming episode will follow Marge as she poses as a drag queen in order to sell more Tupperware. "This is true – most successful Tupperware sellers are drag queens," Jean said. "So Marge starts selling Tupperware, and her friend Julio convinces her to pose as a drag queen to make more money. They think she's a guy playing a woman, which Marge kind of looks like a little. She's really successful and then RuPaul is playing a character like himself."
Photo: YouTube/Animation on FOX
Chat About Here's Your First Look At RuPaul's Episode Of 'The Simpsons'