Foster The People Advocate Clowning Around in 'Worst Nites' Video
By Katrina Nattress
November 16, 2018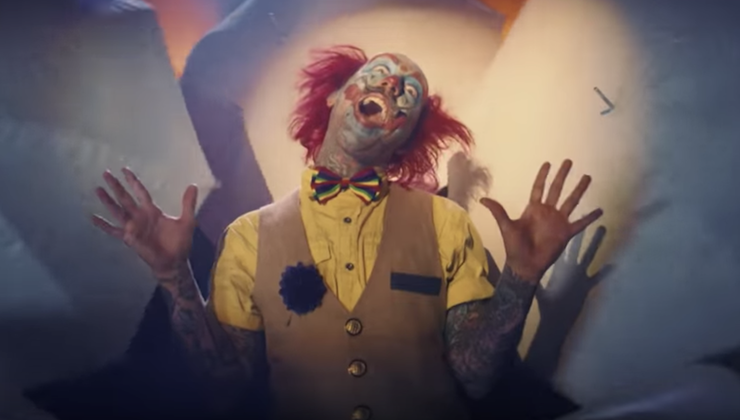 Foster the People advocate clowning around in their video for "Worst Nites."
Directed by the band's frontman Mark Foster and the Hunger Games star Josh Hutcherson, the nearly five-minute-long clip follows real life clown Richie the Barber as his bad day turns into a good night.
The visuals begin in a dark room filled with clown paraphernalia. An alarmed Richie quickly hops out of bed and gets ready before commuting to work on his unicycle. Once there, his coworkers immediately give him dirty looks. His boss points to a sign that reads "No Clowning Around," and Richie begins to sweat, revealing colorful tattoos underneath his flesh-colored makeup. His suspicious officemates rub at his face while his boss yanks off his brown wig to unearth bright red hair.
The mob begins to chase him down the street, as he pedals away on his unicycle. And that's when things really get good.
Watch the entertaining video below.
Though on the surface the "Worst Nites" video seems like a kooky story about a clown, there's much more to it.
"We are living in a world where we're engulfed in pressure to conform," Foster wrote in a statement. "This story is a metaphor for not being afraid to embrace who you really are. There's an immense freedom that comes with taking ownership over what makes you unique."
"Thank you for watching," he added. "And sorry if you hate clowns. We love them."
Photo: YouTube
Chat About Foster The People Advocate Clowning Around in 'Worst Nites' Video