Barack Obama Surprising Michelle During Her Book Tour Is Couple Goals
By Peyton Blakemore
November 19, 2018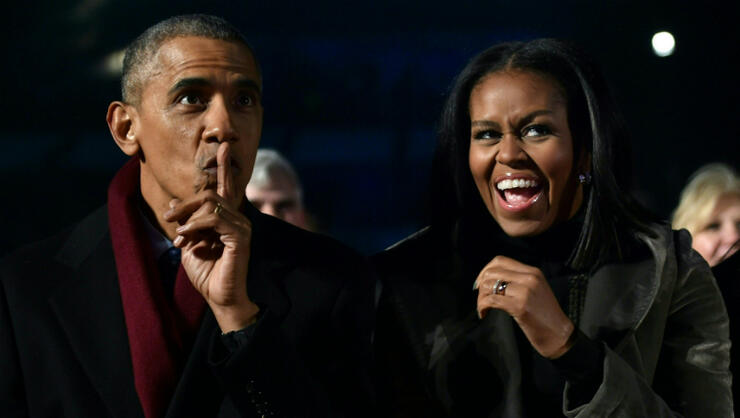 Barack and Michelle Obama are serious couple goals!
The 44th President of the United States made a surprise appearance at his wife's Becoming book tour stop in Washington D.C. Saturday (November 19), sending the crowd into a frenzy and his wife into a visible state of bliss.
After appearing on stage with a bouquet of flowers, Barack took the mic and compared his grand gesture to that of Jay-Z walking out during a Beyoncé show. "This is like - you know when Jay-Z comes out during the Beyoncé concert?" he joked. "Like, Crazy in Love? It's the same thing. It's just a little sample to enhance the concert," Barack added, making sure to let the crowd know that the night was still all about his Queen Michelle.
The former first lady later shared a photo of her and her husband onstage to Instagram, captioning the post: "Look who dropped by!"
During his surprise appearance, Barack also spoke about falling in love with Michelle and how, before they started dating, she tried to set him up with some of her friends (according to The Huffington Post). "Don't go there," Michelle joked after Barack said he wasn't interested in any of her friends.
The couple also talked about their time in the White House, explaining that they've just started to look back at what they accomplished. "We haven't had much time to reflect over these eight years because we were so busy doing and so busy trying to be perfect, and to get everything right that rarely did we have time to sit back and acknowledge what we've done," she said, according to CNN. "And I was able to do that with my husband just the other night. And just look at him and say, 'man, man you did this. You did this. You did one of the hardest jobs on the planet.'"
Photo: Getty Images
Chat About Barack Obama Surprising Michelle During Her Book Tour Is Couple Goals