Mariah Carey Explains Why Christmas Is Such 'A Huge Production' For Her
By James Dinh
November 23, 2018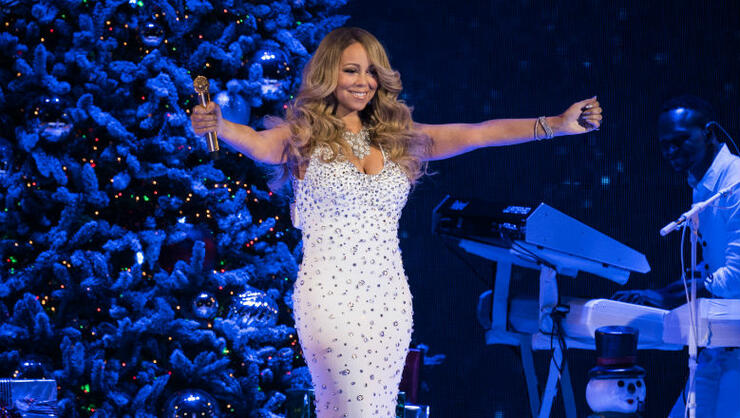 It's a big time to be Mariah Carey. Not only did the pop titan just release her 15th studio album, Caution, but the singer/songwriter is gearing up for her favorite time of year: the Christmas season. In honor of her promotional trail for the LP, the elusive chanteuse spoke to iHeartRadio about the forthcoming holiday and revealed just why it's such a big deal for her and her family.
"The truth is it's my favorite time of year. It's always been my favorite time of year. I can remember being a little kid and even if I didn't have a lot of money, which we didn't, and didn't have a lot of things, my mother would always try and make it very festive for me," Carey revealed. "I would just enjoy just everything about the holiday season. So now I try and make it a huge production for me and my family. I have my own twins now. They're seven years old, and we see Santa Claus every year, and it's live reindeer. It's perfectly normal, you know?"
Carey will celebrate the season with fans, too, on the European leg of her "All I Want For Christmas Tour," which will keep her schedule booked from the top of December until just a few days before the holiday.
As a whole, 2018 has been a busy year for Carey and a particularly positive one after some stumbling performances of yesteryears, and yet, it's only bound to get busier. After the holiday tour, the pop veteran is putting her new music at the forefront with her "Caution World Tour." "I can't wait for you all to come. It's going to be very exciting, I'm doing new songs and classics," she said. Days earlier, MC told Andy Cohen that she was considering adding some Glitter cuts to the setlist, considering her Lambily helped make the soundtrack the No. 1 charting set on iTunes' Album Chart ... 17 years after its release.
"There've been so many experiences that I've had throughout my life where the fans saved my life. People come up to me and say 'Thank you for saving my life with your music,' and all these really nice things that they say to me," she gushed. "The thing is that they do that for me, and that's the way it's always been. I just have to, as always, give love and, you know, all my best to my Lambily and let them know that I'm here and that I love you much, and I appreciate and enjoy you."