Tattoo Stories with Anderson .Paak: How His Ink Tells His Family's Story
By Nicole Mastrogiannis
November 27, 2018
Anderson .Paak is making his way up the Southern California coast with each album he releases. Starting with 2014's Venice, the recording artist then released Malibu in 2016, and most recently, he shared his latest LP, Oxnard, which is also his hometown.
Oxnard showcases twelve new songs and several impressive features from rappers including Dr. Dre, Kendrick Lamar, Snoop Dogg, J. Cole, and many more. He tells iHeartRadio of what fans can hear on the LP, "Just big, ambitious music, [and] big production. Nothing like trying to be cool. It's just like a vibe. It's like something you could play when you're on your way to Vegas or a long drive, you want to turn up, you know, like it's good for music. I like to say it's like, I'm trying to be the same guy in a new car. That's what this album is about. Got a lot of new friends, got new vibes, but we're still trying to hold onto those principles that I started with back home, and we're bringing that back home."
Anderson also opened up about his many tattoos during an exclusive interview. These are Anderson .Paak's Tattoo Stories. Read on below.
On his First Tattoo: The Cross & Praying Woman
"[I got it] in a garage. I was in a rock band. And then, I just had [the tattoo artist], like, he was like a guy that was doing his first tattoos, so he put a lady praying in front of a cross with a bow on her head. It could be worse. I picked it. My mama just got sent to prison, so I was like, 'Man, I need prayer,' you know? I didn't really know what to put, so I was like, that seems cool. Like something I would not regret. And I was like, 'Yeah, put the bow on her head.' I was 18. I think I was just hyped, like I'm finally getting a tat. And, when you first get tatted, you're like yeah, I'm gonna start like this and let me get a sleeve, you know, come back. But, I never saw that guy again after that."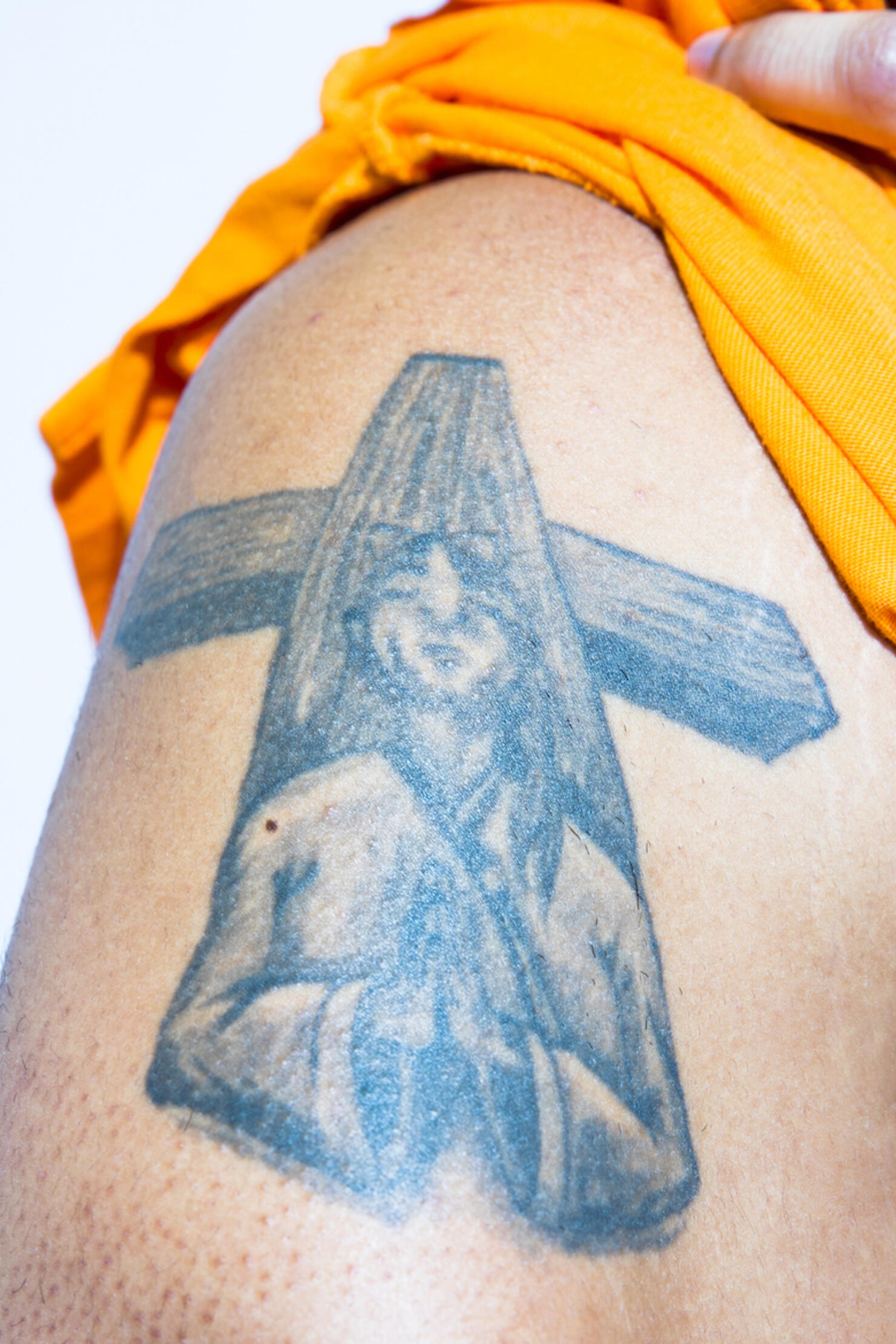 On the Sleeve on His Left Forearm
"I just got this [tiger]. This is probably my first good tattoo. I'm like a museum for sh***y tattoos. But, this one I'm pretty proud of. It's like a story of my life, or it's gonna be. [It] starts in Korea, my mom was born in Korea, adopted in Korea during the war. And then, I'm gonna have it, like she flew, got adopted into California, have the California bear. Then, she met my pops who worked on fighter jets, so I'm gonna have a fighter jet. And then had me in Oxnard, and I'm the tiger. I was born in '86. I have the 24 birds. [I] was 24, when I first had my son, Soul, so I got a little sun, and my son's name in Korean on the left arm. I think I want to just tell a story on [the left] arm, and then we'll figure out [the right] arm later."
Fun Fact: The tiger tattoo took 12 hours, and caused .Paak to miss the Drake concert. He tells us, "I missed the Drake concert and everything. I got tickets to the Drake concert, twice, two shows at The Forum. I blew the first one because I went late. I thought the show was gonna start at 10, so [I was] getting ready and stuff and they're like, no, he's about to be done in like 30 minutes. [I] missed it. So I was like, [I'm] going tomorrow [and] got tickets again. I started [my tattoo] at 12 noon, and I thought he was done. Literally, I was like, cool, I've got like a couple of hours before Drake. He's like, yeah, you still got at least four more hours, I got to do shading and all this stuff. I was like, well, I blew it again."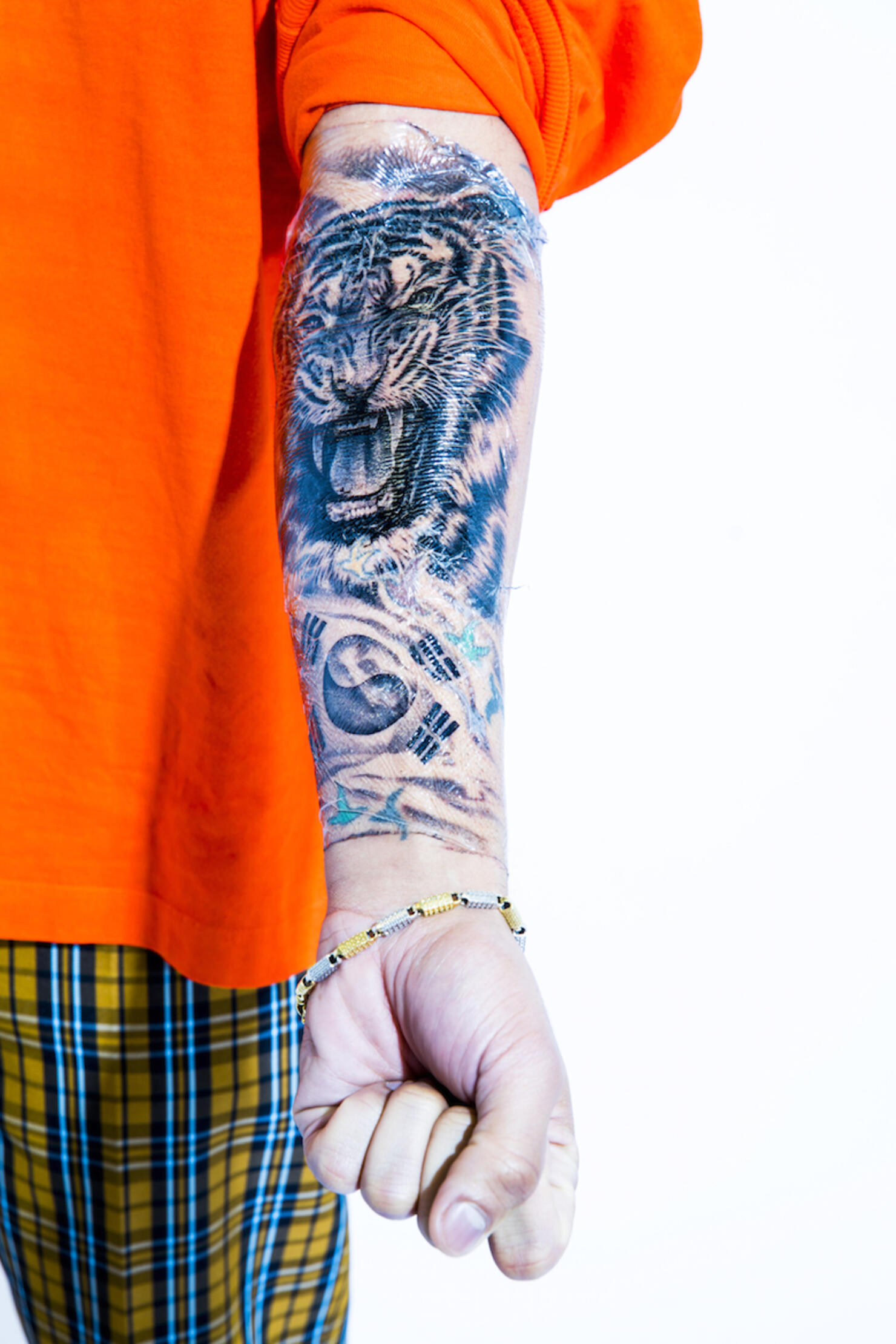 On the Free Nationals Logo on his Right Bicep & Future Tattoos
Along with his Free Nationals bandmates, Anderson and the group all have the Free Nats logo together. He explains, "I got the Free Nats logo too. I got that one like a year and a half ago in Hawaii. We all got it; everyone in the band."
As for what's next in tattoos for .Paak, he says, "I want to finish [the left arm] up, get the California bear, get the jet, [and] get Oxnard, the name of my new album."