Is Tristan Thompson Watching His Cheating Scandal Play Out On 'KUWTK'?
By Emily Lee
November 21, 2018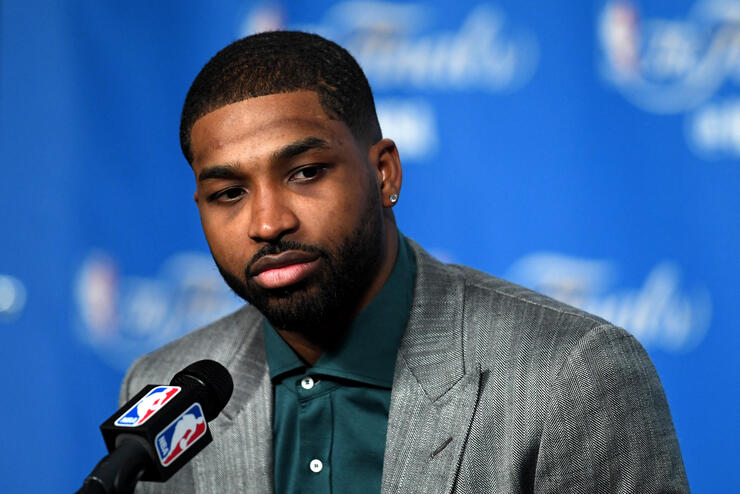 As fans of Keeping Up With The Kardashians know, Tristan Thompson's infamous cheating scandal has begun playing out on the show. While viewers are hungrily tuning in, eager to learn what really went down when the Cleveland Cavaliers player was caught cheating on Khloe Kardashian just one day before she gave birth to their daughter, True Thomspon, there's one person who isn't super psyched to see it all play out on TV. I'll give you one guess who it is. Yup! It's Tristan! During an appearance on The Ellen Degeneres Show, Kim Kardashian revealed how Tristan is handling the latest KUWTK episodes.
"It is awkward, especially for maybe Tristan, who isn't used to this," she explained. "Unfortunately, that was what's going on in our lives. So six months later when it replays and they've gotten through what they needed to get through and it's rehashed in front of everyone and everyone's giving their opinions all over again and we're live-tweeting and everyone's chiming in. So that is hard for Khloé and I'm sure for Tristan, but it's our reality."
As for whether any of the more heated interactions were edited out, Kim says what viewers see is what really went down in the aftermath of the scandal. "There's nothing really that we've taken out," she said. "So we will let everyone watch and be like, 'Okay, this is what I said about you and this is how I feel about you or felt about you.' It is what it is."
Khloe has also been open about how difficult it's been to relive her boyfriend's betrayal. She responded to a fan's tweet, saying, "I signed up to show the good and the bad, right? The bad is very hard to relive, but it's life."
Hopefully, this is the last cheating scandal that the family experiences.
Photo: Getty
Chat About Is Tristan Thompson Watching His Cheating Scandal Play Out On 'KUWTK'?