Princess Diana Would Be 'So Proud' Of Kate Middleton And Meghan Markle
By Emily Lee
November 22, 2018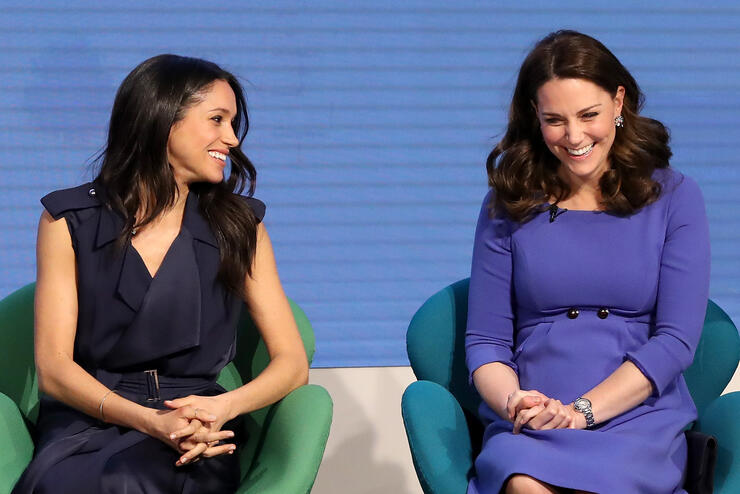 Prince William and Prince Harry have both spoken about how unfortunate it is that their wives never got the chance to meet their mother. Despite that sad fact, though, both of the princes feel their mom would have loved Kate Middleton and Meghan Markle. Princess Diana's lifelong friend and sister-in-law, Sarah Ferguson a.k.a Fergie, reiterated this sentiment in a new interview on Good Morning Britain, saying the Princess of Wales would be "so proud" of the Duchesses.
"She'd really just be so proud," Fergie said. "Even before they got married, Diana would have been literally going, 'I can't believe these boys have done so well.' They are such a credit to her."
"I honestly think she would be so proud of the wonderful Meghan and Catherine as well," Fergie continued. "She'd want to embrace them and say, 'You're doing well.'"
Fergie also opened up about how much she misses Princess Diana, saying she had "enormous compassion" and that "no one made me laugh better than her."
The Duchess of York says Princess Diana would have 'loved every moment' of William and Harry's weddings.
She says that she continues to 'miss her' 21 years after her tragic death. pic.twitter.com/biQORCKb0G

— Good Morning Britain (@GMB) November 21, 2018
Fergie, the ex-wife of Prince Andrew and mother of Princesses Beatrice and Eugenie, also spoke about the ups and downs of her relationship with the royal family. While Fergie was invited to Harry and Meghan's wedding back in May, she did not receive an invite to William and Kate's 2011 nuptials. According to People, since Harry's wedding was "not a state occasion" there was more flexibility for him and Meghan. William and Kate, however, were under much more pressure when it came to their guest list. People notes that "Buckingham Palace was reportedly pushing Harry not to invite Fergie — but Harry pushed back" and Fergie was ultimately invited.
"It was very kind of them, and I can't thank them enough for doing that because it was nerve-wracking," she said on Good Morning Britain. "It was quite extraordinary. I sort of looked around like, 'Are they doing that for me?' Then someone went 'Fergie,' and it was the old Fergie back," she said. "I felt that sense of support from the crowd, which was very kind."
Fergie made sure to personally thank her ex-mother-in-law Queen Elizabeth, as well, for everything she's done. "I just think that Her Majesty is an incredible lady. What an icon to the country, and one of the finest people I've ever met. Her Majesty leads by such example, to include me is a wonderful gesture," she gushed. "Her Majesty knew me from a little naughty age ten. I can't thank Her Majesty enough for being so steadfast to me."
Photo: Getty
Chat About Princess Diana Would Be 'So Proud' Of Kate Middleton And Meghan Markle