Twenty One Pilots Are a 'Jeopardy!' Question (Again)
By Katrina Nattress
November 24, 2018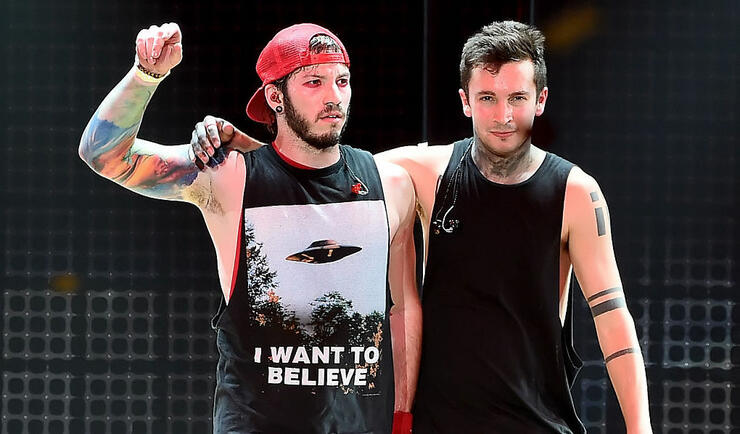 We're starting to think Alex Trebek is part of the Skeleton Clique, because Twenty One Pilots was just a Jeopardy! question again.
As a Reddit user pointed out last week, the alt-rockers were the subject of an answer on the show's first game of its Teen Tournament semifinals. During Double Jeopardy, one of the categories was "On Vinyl," and a contestant named Claire kicked it off by selecting the $2,000 answer.
"U.S. vinyl record sales rose every year from 2006 to 2016; No. 1 in 2016 was this band's Blurryface," Trebek read off the screen.
Our girl Claire didn't even hesitate in her response: "What is Twenty One Pilots?" she asked. Ding, ding, ding!
This wasn't the first time the duo was included in the game show either. In fact, far from it.
In May, the band was featured in the "Band Math" category. "Trent Reznor's 'inch nails' plus Josh Dun's 'pilots" the answer stated. Jeopardy! teased this one on Twitter before the episode aired.
In 2017, there were also a handful of TOP-inspired answers: "'Heathens' by __ __ Pilots," "Twenty One Pilots 'Wish we could turn back time to the good old days... but now we're' this title," and "Josh Dun and Tyler Joseph take flight with this 'Blurryface' band."
Naturally, fans got super excited while they were watching the show and documented the answers on Twitter. Check out some reactions below.