Kevin Hart & Wife Eniko Slammed For Son's 'Offensive' Birthday Party Theme
By Peyton Blakemore
November 26, 2018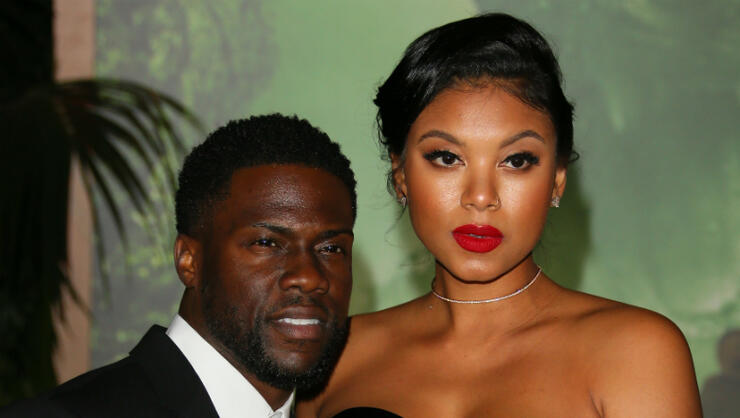 Kevin Hart and his wife Eniko are in hot water over the theme of their son Kenzo's first birthday party.
In celebration of their boy turning one, the couple decided to throw a "cowboys and Indians" themed party last week. Eniko shared tons of photos from Kenzo's big day to Instagram, however, almost immediately her followers slammed her and Kevin for their "culturally insensitive" party theme.
"Zos cowboys & indians party was nothing but amazing," the first-time mom captioned a photo of her with the party's guests. "Thanks to everyone for coming.. we love you guys! ♥." In photos taken from the party, you can see guests wearing Native American blankets whilst surrounded by traditional Native American accessories and decor including teepees — all of which rubbed some people the wrong way.
"For a people who have been so malign and oppressed you now have become a participant in an act that denigrates another oppressed people," one follower wrote. Another added, "Da f**k were you "thinking"? Obviously NOT thinking. I guess if you have money it's alright to be stupid and offensive."
Despite the onslaught of criticism, just as many people defended the Hollywood couple's decision to have a "cowboys and Indian" themed party. "Jesus Christ, help these stupid idiots who are offended by literally, EVERYTHING!!. Are you guys kidding?? It's a child's birthday party!!! Calm the hell down," one commented. Another follower wrote, "Anyone who thinks this baby's birthday theme is anything but a cute birthday theme has way deeper issues then they choose to admit. I hope your little one had a great day!!"
With varying fan opinions overtaking the photos' comment sections, many took the time to either share personal anecdotes or historical evidence to support their feelings about the themed birthday party. "No safe way to comment on this. I would encourage people to research pre-Colombian Native-American history," an Instagram user instructed. Another simply wrote, "Culture isn't a costume."
Chat About Kevin Hart & Wife Eniko Slammed For Son's 'Offensive' Birthday Party Theme