Kate Middleton Speaks About Meghan Markle's Pregnancy For First Time
By Emily Lee
November 28, 2018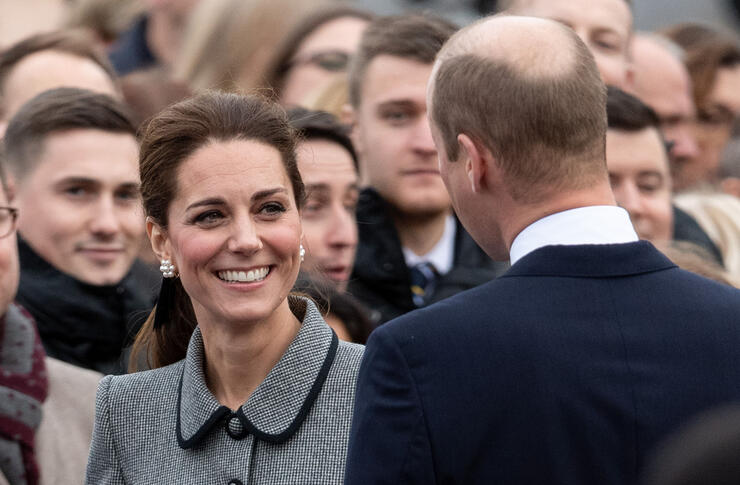 Amidst reports of tension between Kate Middleton and Meghan Markle, the Duchess of Cambridge has spoken out about her sister-in-law's pregnancy in public for the first time. While visiting Leicester University with Prince William on Wednesday (Nov. 28), Kate happily greeted some wellwishers who came out to catch a glimpse of the royals. One royal watcher captured a sweet video of Kate talking about her sister-in-law's pregnancy and it seems like those feud rumors are just that: rumors.
When Kate was asked if she was excited about Meghan and Prince Harry's baby news, Kate responded, "Absolutely! It's such a special time to have little kiddies. And a cousin for George and Charlotte, as well, and Louis. It'll be really special."
Kate also spoke about her own children, as well, revealing they're already preparing for the holidays. "They're doing well, thank you," she said to the wellwisher who asked about her kids. "They're getting excited for Christmas time, because they've started all their Christmas songs and the Christmas trees are going up."
Kate also marveled at how fast her youngest son is growing up. "And Louis' getting bigger, I can't believe he's like seven months, he's getting to be a big boy," she said.
Hopefully, the royal family releases a ton of adorable cousin photo-ops as soon as Baby Sussex arrives in the Spring.
Photo: Getty
Chat About Kate Middleton Speaks About Meghan Markle's Pregnancy For First Time