Lorde Teases Third Album Will Be 'Born Out Of The Piano'
By Paris Close
November 28, 2018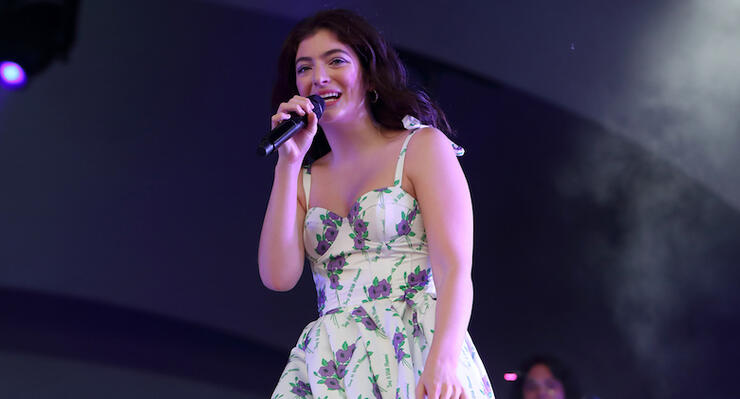 Lorde is looking forward to her new era and to learning a new instrument.
The 22-year-old has been touring for over a year in support of her lauded sophomore album, Melodrama, which garnered her multiple accolades including a nod for Album of the Year at this year's Grammys.
After culminating her "Melodrama World Tour" in Mexico City this month, the star, who's remained offline since last year, shared an e-mail thanking her fans, along with images from the South American leg of her trek.
"Eyeris counted up 116 performances this tour. That includes, shows, festivals, radio thingies, TV performances... holy s**t I have no idea how we did all those bloody performances!" she wrote. "And now it's the end, and I'm caught in an overwhelming mix of relief, gratitude, mourning, elation, and exhaustion. As I sit at home at my kitchen table with the dog under my feet and the doors wide open, I'm thankful to be back where I feel most like myself, but also a little spooked to think it will be a while before we see each other again, formally."
Lorde also teased that her follow-up project will most likely be birthed out of the piano.
"I haven't started properly on the next record yet, and I'm not sure how long it'll be," the "Homemade Dynamite" musician continued. "But I've been teaching myself how to play piano, and here and there little bits come out. I think this next one will probably be born out of the piano in my house; me and my friends, keeping it simple. But we'll see."
The New Zealand artist doesn't offer a clue on when her third studio album will arrive but promises to keep fans abreast.
New email from Lorde about the end of the Melodrama and how she is gonna start learning to play the piano! Accompanied by some photos from Latin America... pic.twitter.com/TnHxIdRRAU

— Lorde Daily (@LordeDaily) November 27, 2018
Chat About Lorde Teases Third Album Will Be 'Born Out Of The Piano'