Mariah Carey & Her Kids Sing To Her Hit 'All I Want for Christmas Is You'
By Peyton Blakemore
November 29, 2018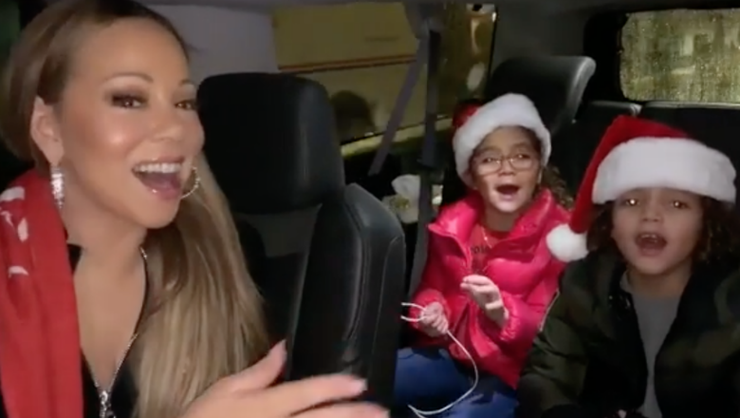 Mariah Carey's raising music's next big pop stars!
The Queen of Christmas passed the Holiday tourch to her seven-year-old twins Monroe and Moroccan (famously known as "Dem Babies") this week, as she shared a video of the two getting in the Christmas spirit by singing her mega-hit "All I Want For Christmas Is You."
"Roc & Roe have been practicing the background vocals to "All I Want For Christmas Is You", we're gonna take this one step at a time," the proud mom captioned the sweet video shared on Instagram Wednesday (November 28). "We're very excited about it! It's our first video doing this! It's festive, Cmon!! 🎄🎶🎄🎶💖."
The "With You" singer began the video by asking her seven-year-old children if they're "ready" for their singing trio. After Moroccan stretched, and Monroe began dancing to the beat of the music, Mariah then prompted her little ones by saying "Here we go," and they began to sing the song's chorus.
Once Mariah joined in, the kids started to harmonize on the background vocals, singing the O's and I's, and the rest was history.
Fans loved the twins' rendition of the famous track, with many taking to the Instagram video's comment section to praise them for it.
"Best Xmas song EVERRRR!!!" one fan wrote. "Can never get enough of that . What a great way to share your music with your kiddos !!" Another commented: "Roc and Roe your vocals for amazing!! Well done! ❤️" A third fan gushed about how awesome it must be to be able to sing alongside Mariah. "How cool would it be to have her as ya mum and she sang this to you every year!!" they wrote.
Photo: Mariah Carey Instagram
Chat About Mariah Carey & Her Kids Sing To Her Hit 'All I Want for Christmas Is You'