See Steve Vai's 4-Guitar "Bohemian Rhapsody" With Zakk Wylde, Yngwie, Nuno
By Andrew Magnotta
November 29, 2018
Late this past summer, Steve Vai mentioned that he had worked up an arrangement of Queen's "Bohemian Rhapsody" in which every vocal part was played by an electric guitar.
Vai told Eddie Trunk in September that he worked up the piece at the urging of Extreme's Nuno Bettencourt (Brian May's favorite guitarist) with the intension that it would be performed on last spring's Generation Axe tour.
Alas, the arrangement was too complex — even for four of the world's greatest rock guitarists — to nail down on short notice. But now as Generation Axe has returned to the road with a fall tour, the collective is performing the song, and it is glorious!
Check out some pristine-sounding fan-shot footage above of Vai, Bettencourt, Zakk Wylde and Yngwie Malmsteen performing the song to perfection at a gig in Bethlehem, Pennsylvania.
The four guitarists take turns reproducing Freddie Mercury's lead vocals, while the others add harmony and, of course, the song's original guitar parts, accompanied by piano, bass and drums.
The highlight of the rendition is of course the operatic section of. Vai, Bettencourt, Wylde and Malmsteen each take the on one of the section's vocal parts, harmonizing perfectly and mirroring the way the vocals ping around the stereo mix of the original song.
"The idea was to do 'Bohemian Rhapsody' for five guitars," Vai told Eddie Trunk back in September. "I did it. I mean, I created all the parts and got every one of Freddie's vocals. And you gotta hear it on guitars; it's unbelievable. But we just didn't have enough time in rehearsal. Nuno was gonna take the lead on that one because, well, he's very good friends with Brian, and he's a huge Queen fan, as we all are."
While Animals as Leaders guitarist Tosin Abasi did not join his tour mates for "Bohemian Rhapsody," he later joined them onstage for a smoking five-guitar version of "Burn" by Deep Purple.
UPDATE 11/30: You can see the five-guitar version of the arrangement below!
Photo: Getty Images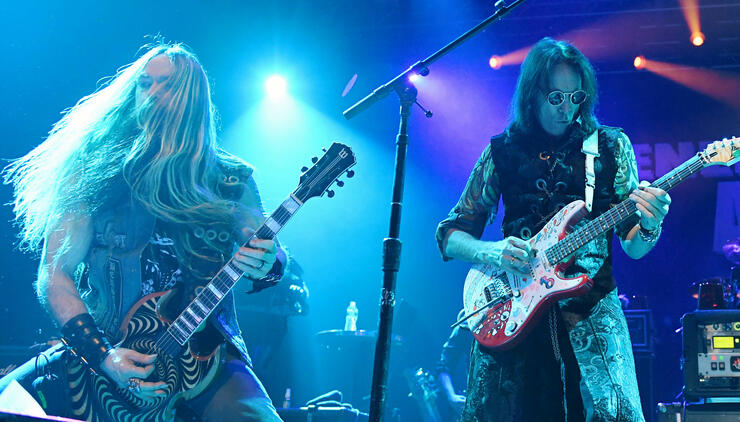 Chat About See Steve Vai's 4-Guitar "Bohemian Rhapsody" With Zakk Wylde, Yngwie, Nuno