Tommy Lee Accuses Travis Scott Of Stealing Stage Design, Threatens To Sue
By Peyton Blakemore
November 29, 2018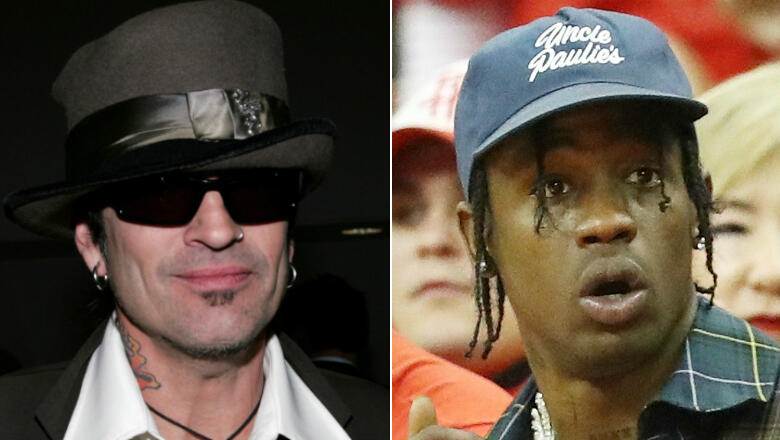 Tommy Lee is not too happy with Travis Scott.
On Wednesday (November 28), the Motley Crüe drummer accused the "SICKO MODE" rapper of stealing his band's carnival-themed stage design for his Astroworld Tour.
"Just found out this f**king idiot @travisscott or someone on his team ripped off the 360 AND The Crüecifly," Tommy captioned an Instagram video of La Flame performing on a 360-degree mechanical loop during his Astroworld Festival earlier this month. "WTF!! Get an original idea bro." Tommy also shared a video of him playing the drums on a similar 360-degree mechanical loop back in 2011, to seemingly show the stage design similarities.
The drummer then posted a second carnival ride that Travis uses during his Astrowold concerts, claiming his band used the rollercoaster ride first. "ANNNNND not one rip off but TWO. DOPE. I get copying is a form of flattery, but this is just straight ripping off my sh*t... #crüecifly," he wrote. Tommy later doubled down on his posts, tweeting what appeared to be a legal threat against the 26-year-old rapper. "Hey @trvisXX lawyer up!" he wrote.
Despite the obvious stage design similarities (they both used amusement park rides on stage), many fans did not agree that Travis copied Motley Crüe, but rather stuck to the theme of his Astroworld album. "Fam you understand that astrowolrd was an amusement park and that is what his stage represents," a fan explained on Twitter. Another fan attempted to clarify Travis' set design, tweeting, "The roller coaster deada** is a tribute to astroworld..... Hong the name of his album and the whole idea of the project." And a third simply wrote, "@travisbarker was the first to do it, stop acting like it's an original idea."
After many fans disagreed with his claim that Travis stole his set design, Tommy returned to Twitter with what he seems to believe is proof the idea was not originally Travis'. "And the plot thickens! After I and our production crew created the 360 and Crüecifly, We hired a company called SGPS in Las Vegas to create it. WELLLLL GUESS WHO'S DOING TRAVIS'S SET DESIGN???? F**king SGPS! So all u mothaf**kas tellin me I'm not right can f**k off," he wrote.
Travis' attorney, Laurie L. Soriano, later fired back against Tommy's claims, telling TMZ: "Tommy didn't invent the concept of a roller coaster on stage and there's no legal basis for his accusatory outburst. The actual creator and owner of the system has granted Travis all rights to use that equipment to complement his original stage design."
To note, Tommy was taken to court in 2014 over his 360-degree mechanical loop set design by an engineer who accused him of stealing the idea. Ultimately, the drummer won the case, after the judge ruled the ride was based on Tommy's original concept.
Chat About Tommy Lee Accuses Travis Scott Of Stealing Stage Design, Threatens To Sue