Ariana Grande's "thank u, next" Music Video: All The Things You Missed
By Nicole Mastrogiannis
November 30, 2018
On November 30th, QUEEN Ariana Grande bestowed upon us THE greatest music video of all time.
The "thank u, next" music video pays tribute to some of the best movies from the early 2000s: Mean Girls, Legally Blonde, 13 Going On 30, and Bring It On. The five minute and 30 second clip of pure gold also includes guest appearances from some of these films like Legally Blonde's Jennifer Coolidge and Mean Girls' own Aaron Samuels: Jonathan Bennett. The video also features many of Ari's Victorious co-stars like Elizabeth Gillies, Daniella Monet, and Matt Bennett.
Others to make an appearance in "thank u, next" are Troye Sivan, the coolest momager of all Kris Jenner (bringing everyone's favorite meme to life), as well as Ari's BFFs Alexa Luria, Courtney Chipolone, Victoria Monet, Gabi Demartino and Colleen Ballinger.
But, with all of the incredible things going on in this magnificent video, here are some things you may have missed:
Big Sean's page in the "thank u, next" Burn Book says "could still get it" in parenthesis
COULD. STILL. GET. IT. 👀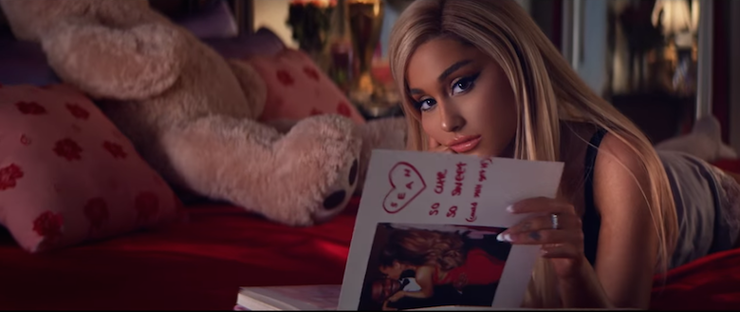 We see Ari flip through pages in the Burn Book dedicated to each ex she talks about in the song ... except Mac Miller ... "'Cause he was an angel."
I'M NOT CRYING, YOU ARE.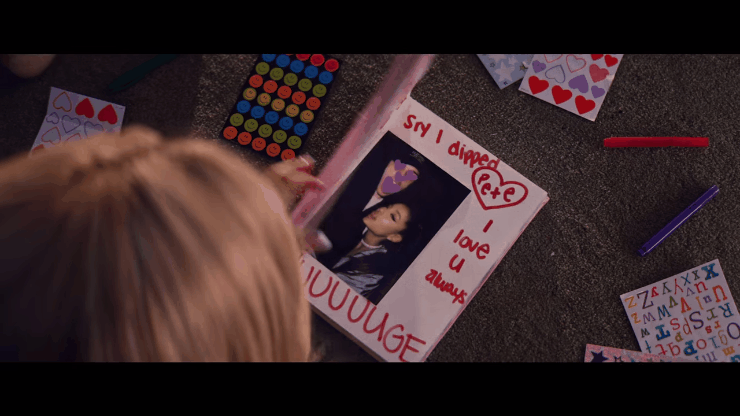 As Regina George, Ari's shirt says "A Little Bit Needy," most likely referencing a song "Needy" that she's been teasing on social media recently.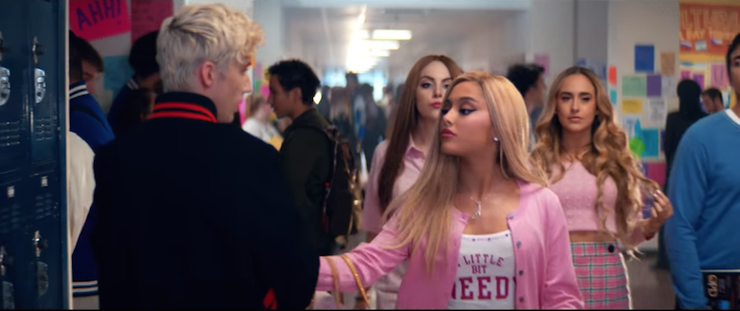 In this scene, Jonathan Bennett, AKA Aaron Samuels, is holding his Mean Girls-inspired cook book he put together.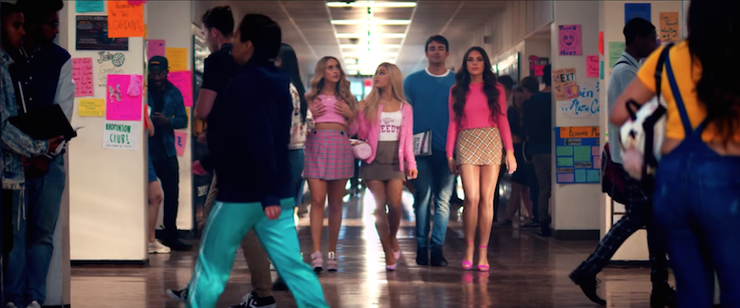 In the Bring It On bedroom, the poster of the figure skater is actually Ari's big bro Frankie Grande.
That is also his real signature.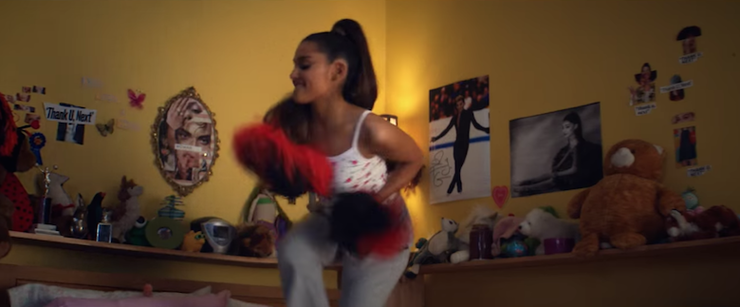 In the 13 Going On 30 dollhouse, each bedroom represents the other three movies and sets from the music video.
The bottom left is the Mean Girls bedroom, the bottom right is Elle Woods' Harvard dorm room from Legally Blonde, and the top left is the Bring It On bedroom (complete with Frank Grande's figure skating poster).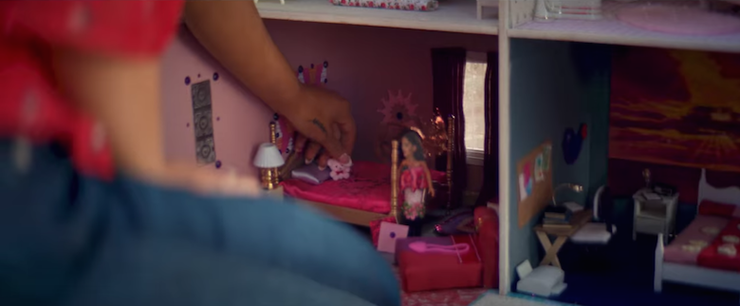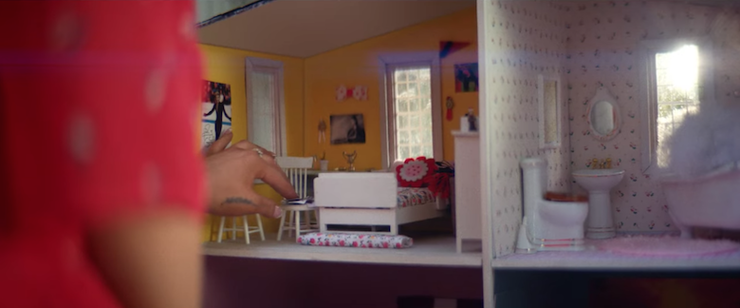 This UPS guy's uniform actually says BDE...
We see what you did there, Ari. 😉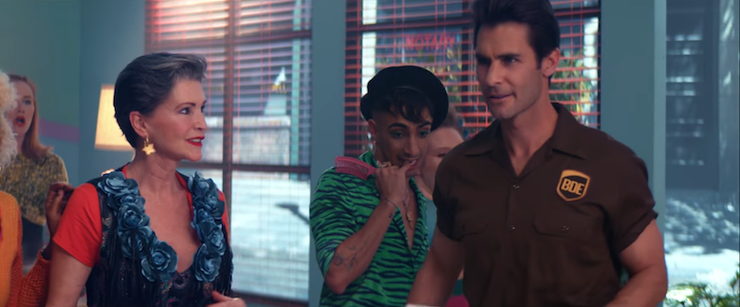 Although Kris Jenner plays Ari's music video mom, Grande's real mom — the one and only JOAN GRANDE — does make an appearance!
The sunglasses, though. I -
And finally ... IS ARI HINTING THAT "SEVEN RINGS" IS THE NEXT SINGLE?!
Now, stay with me here, as I am channeling my inner Elle Woods. In Ariana's "breathin'"music video, there is a departures board at the train station, and although the letters are jumbled, it actually appears to be song titles (probs for thank u, next). One of these songs is called "Seven Rings." Additionally, in teasing the "thank u, next" music video, she posted a picture of herself wearing a new ring ... on ~that~ finger ... a ring that some of her close friends have also been spotted wearing as of lately.
Exhibit A:
There seems to be possible hints throughout "thank u, next" that "Seven Rings" could be Ari's next song (or maybe she's just teasing it). There is the convertible that she drives into Harvard Law School with, in her ode to Legally Blonde with the license plate "7 Rings."
Exhibit B: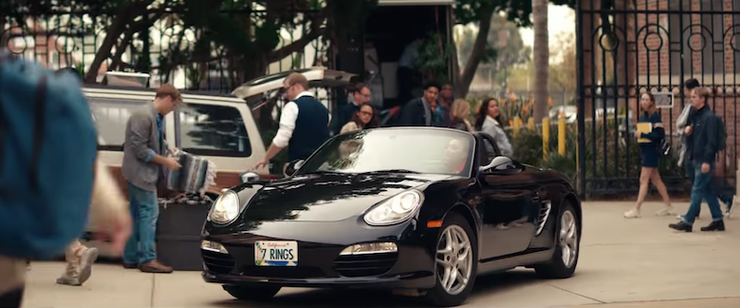 There are also SEVEN female cheerleaders on the ground in this formation (Exhibit C):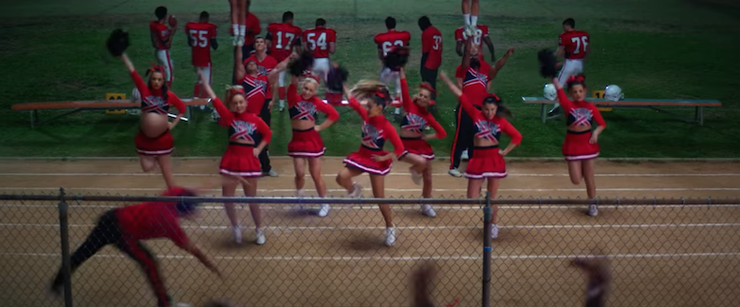 And SEVEN awards hung on the wall (six ribbons and one medal). Exhibit D: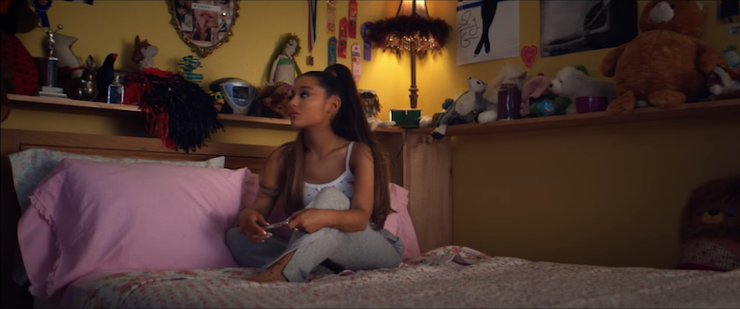 And there SEVEN books in this Legally Blonde scene (six on the table plus the one she's holding). Exhibit E: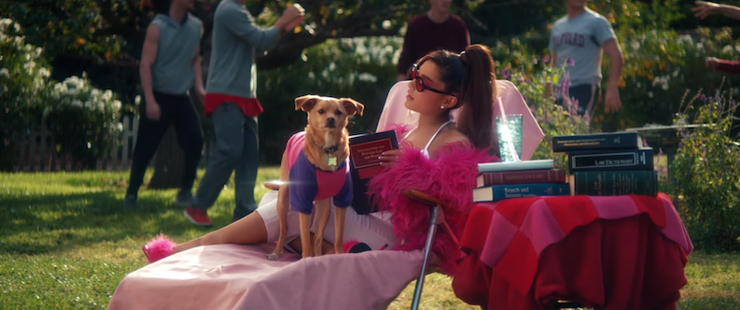 IF this is true .... COME THRU "SEVEN RINGS."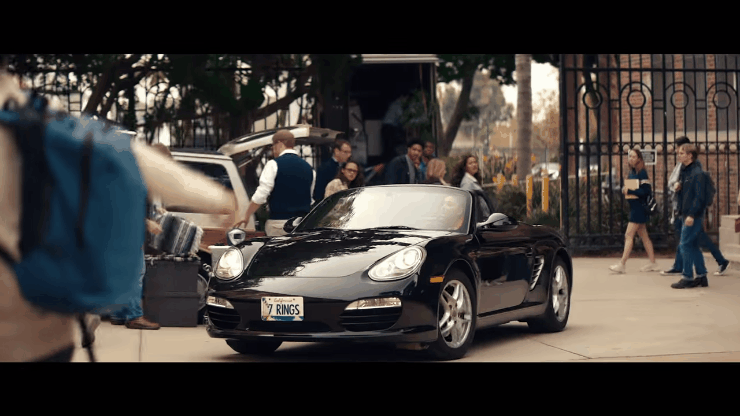 Watch the ACTUAL perfection that is the "thank u, next" music video above!
Chat About Ariana Grande's "thank u, next" Music Video: All The Things You Missed