Muse Talks About Collaborating With 'Stranger Things' Artist For New Album
By Hayden Brooks
December 3, 2018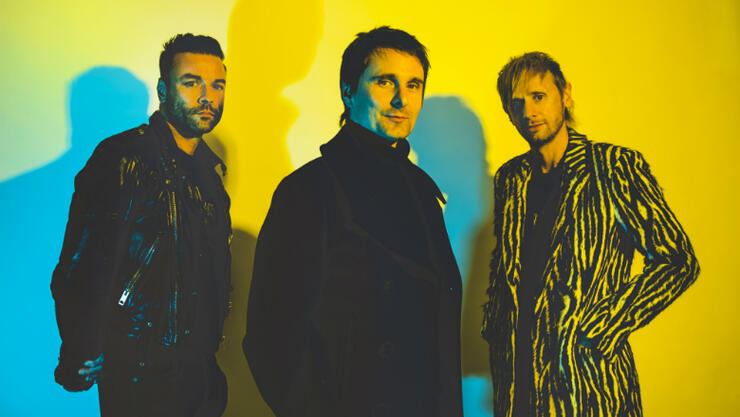 Muse knew that their new album, Simulation Theory, which is heavily influenced by science fiction, 80s pop culture, and a load of political themes, needed a strong artwork to accompany it. Thankfully, the project's own agenda to revisit some of the Matt Bellamy, Chris Wolstenholme and Dominic Howard's earlier childhood influences made a collaboration with Stranger Things artist Kyle Lambert almost a no-brainer of a decision.
Prior to their rocking iHeartRadio Theater concert a few weeks back, the trio spoke to us about the project, with Dominic admitting that the idea for the artwork started as a movie poster. "I'm a fan of Stranger Things like everyone else in the world," he said. "[I'm' looking forward to the new season, but we wanted to do almost like a movie poster thing for an album cover for a little while. As Matt said, the kind of collaboration we were working on with Lance Drake, the video director, we really started having a lot of different kind of characters and people in the videos that it seemed like the perfect time to do it. I'm just a big fan of Kyle's work, so I wanted to find someone who's a great illustrator. Big fan of his work, checked out his stuff, contacted him, and he was cool. He did it all just on an iPad, which is really pretty amazing to see him do it."
Lambert was commissioned to work on the illustrated poster, which for the Netflix's series second season. The poster debuted in October 2017 ahead of the season premiere.
Simulation Theory features 11 tracks and, interestingly enough, there wasn't much left on the cutting room floor. "We actually just made mainly the tracks that are on the album," Matt confessed. "The issue we had is actually we had lots of alternative versions of the songs. Some songs we recorded acoustically or maybe more orchestrally. Other songs we recorded more in a traditional way, like a rock way, or even more electronic. Actually, the difficulty for us was choosing which genre to put the song in."
For more on our time with Muse, which included talk of the music video roll out for Simulation Theory, as well as their challenges they faced regarding instrumentation, scroll on below to watch our full interview with the band!

Photo: Katherine Tyler for iHeartRadio
Chat About Muse Talks About Collaborating With 'Stranger Things' Artist For New Album