Nick Jonas & Priyanka Chopra Are Officially Married
By Taylor Fields
December 1, 2018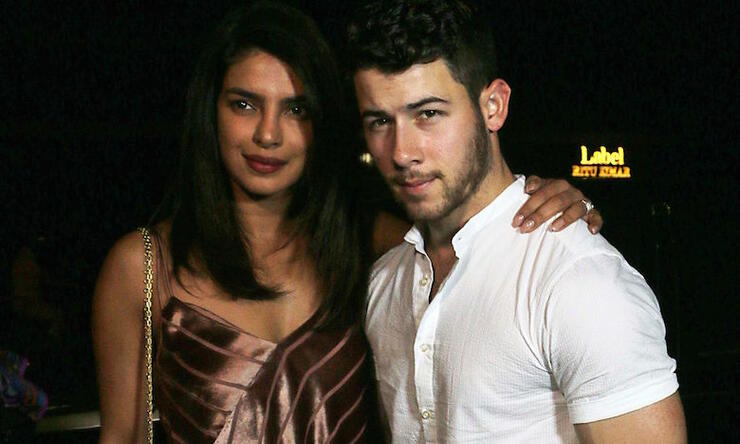 Nick Jonas and Priyanka Chopra have officially tied the knot! Vogue and PEOPLE have confirmed that the pair got married on Saturday, December 1st in a palace in India, with the newlyweds also snagging the fashion magazine's first-ever digital cover.
Jonas and Priyanka said "I do" at the Taj Umaid Bhawan Palace in Jodhpur, as well as held several traditional Western Indian ceremonies which began on Wednesday and continues into Sunday. The wedding weekend was a blend of both Indian and American cultures. According to Vogue, throughout the week, the couple participated in a puja ceremony at Chopra's mother's house, a sangeet during which family and friends perform dances, a mehndi ceremony where Priyanka received gorgeous traditional henna tattoos on her palms and arms, and a haldi ceremony.
Then, on Saturday, the couple walked down the aisle during a Christian wedding, which was officiated by Nick's father, Kevin Jonas Sr. During the ceremony, Priyanka wore a custom Ralph Lauren dress, a designer near and dear to the just-married couple's hearts. Lauren had invited them both to attend the 2017 Met Gala, where they spent a magical evening together, unaware that they had already been flirting for a while beforehand.
The couple's nuptials-filled weekend will end on Sunday, December 2nd with a Hindu ceremony. Chopra told Vogue of their wedding week, "People will need vacations after this wedding. Two very different cultures and religious backgrounds, and the beauty of it was, there was so much love and acceptance for our side."
Nick and Priyanka's engagement and wedding may seem like it happened quick, and it did, but the couple actually first started chatting back in 2016 when he sent her a Twitter DM. Nick told Vogue, "I'm hearing from a few mutual friends that we should meet." I ask for the date. "September 8, 2016," Jonas says. "We checked this morning." He goes on: "She responded day of with a message that said, 'My team can read this. Why don't you just text me.'"
After exchanging text messages, the two didn't actually meet until 2017 at the Vanity Fair Oscars Party, where after spotting her walking through the room, Jonas got on one knee and told Priyanka, "'You're real. Where have you been all my life?" But, the two wouldn't see each other again until the week of the 2017 Met Gala. They grabbed a drink together the week before the event, and then saw each other again at the annual Gala.
A year later they went out again in Los Angeles, and after the third date, is when things moved more quickly. Nick told Vogue, "She walks into the Chateau, and I feel an overwhelming sense of peace and understanding about this next chapter of my life." The next night, they went to the Dodgers game. The following morning, Jonas called his mother and informed her that he was going to marry Chopra. "This is date three," Chopra says.
Jonas proposed to his now-wife in Crete while on vacation for Priyanka's 36th birthday over the summer, after previously shutting down a Tiffany & Co. in London to pick out the ring. The couple celebrated their engagement in India with both of their families, which takes us to to their wedding week!
Congratulations to the new Mr. and Mrs. Jonas! Take a look at their digital Vogue cover below.
Chat About Nick Jonas & Priyanka Chopra Are Officially Married