Nick Jonas & Priyanka Chopra's Wedding Photos: See Both Dresses
By Emily Lee
December 4, 2018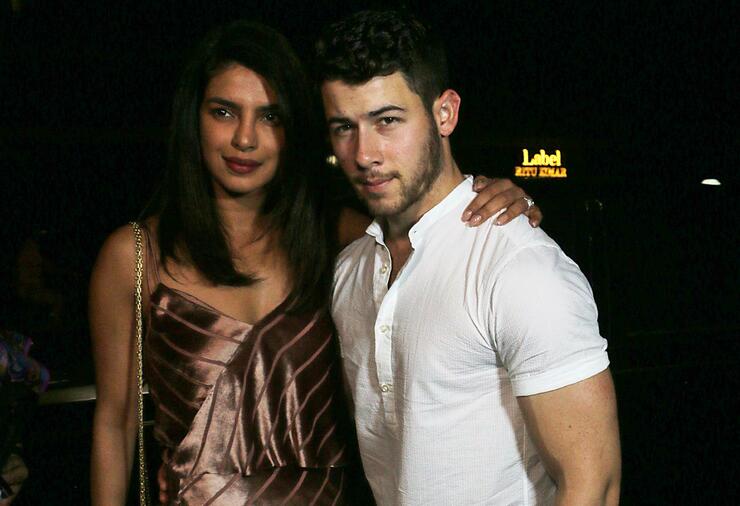 The wedding photos are here! The wedding photos are here! The wedding photos are here! Can you tell we're, like, really excited about Nick Jonas and Priyanka Chopra tying the knot this weekend? The newlywed couple said "I Do" in two separate ceremonies over the course of five-day wedding extravaganza in India. While they had a strict no cell phone policy for staff and guests at their wedding(s), Nick and Priyanka are not being shy about including their many fans in the start of their forever.
Nick and Priyanka shared a series of matching Instagram posts, which included an epic aerial video which showed off Priyanka's show-stopping veil. Seriously, if you thought Meghan Markle went all out in the veil department, think again.
"Every girl dreams of being a princess on her wedding day," Priyanka told People about her over-the-top wedding. "But I never had a plan about what I wanted it to be." When Nick suggested they honor both their cultures with a Western wedding ceremony, as well as a traditional Indian ceremony, her vision all started to come together. "It melted my heart. Being able to have two big weddings, in India, with our closest family and friends was unbelievably special."
Nick and Priyanka's first wedding ceremony was held on Saturday (Dec. 1). Both the bride and groom were dressed in Ralph Lauren. One of their first dates was as the guests of the designer at 2017 Met Gala, so this is a super cute nod to their early romance. Priyanka's stunning gown was a hand-beaded and embroidered gown with a 75-foot long veil (!!!) and she was escorted down the aisle by her mother, according to People.
"And forever starts now," Priyanka captioned a gorgeous shot of her with her new hubby.
"The emotions were running high during the ceremonies, I think especially during the Western wedding for me," Nick told People. "You know you think your whole life about that moment. Honestly, I could not have imagined it would be as perfect as it was. It was highly emotional."
Next up was their Hindu wedding ceremony. There was, of course, an outfit change for the second wedding of the weekend. The newlyweds shared another beautiful photo from their nuptials.
"I love that our wedding was a religious mash-up," Priyanka said. "We took beautiful traditions that we both grew up with and personalized them in a way that made sense for us. It's been incredible to find the commonalities between our beliefs and figuring out how to blend them in a respectful and meaningful way."
Finally, they shared a short video of their Western ceremony. Both Priyanka and Nick can be seen blinking back tears. It also gives fans a glimpse of Nick's brother, Joe Jonas, standing by his side as best man.