Disturbed Reveals Their Favorite Songs: Kansas, Simon & Garfunkel and More
By Taylor Fields
December 5, 2018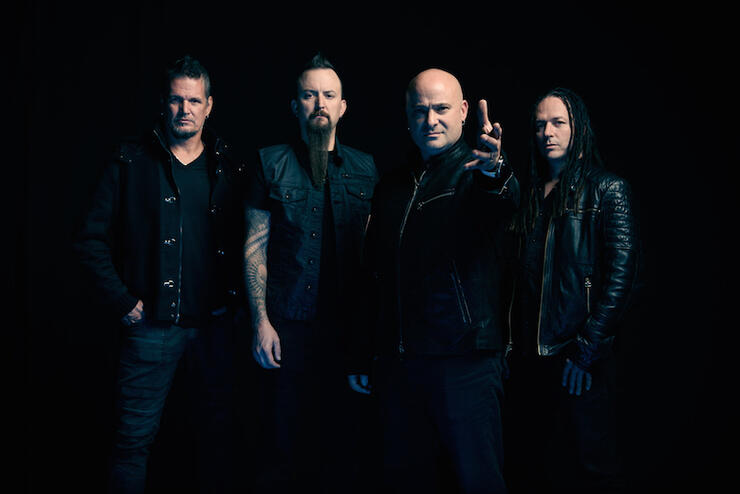 In October 2018, Disturbed released their seventh full-length studio album, Evolution. Following the band's 2015 LP Immortalized, the new record showcases ten new songs, including singles like "Are You Ready" and "A Reason To Fight."
To celebrate their new album, Disturbed performed during an intimate album release party in New York City, but they also curated their own Guest DJ station on iHeartRadio. On this exclusive station, fans can not only hear songs from Evolution and other fan favorite Disturbed songs, they can also hear what the band loves to listen to.
The guys shared some of their favorite songs with us, like artists including Simon & Garfunkel, Kansas, Ronnie James Dio, and more, as well as what these songs mean to them. Read on below.

Mike Wengren: Simon & Garfunkel - "The Boxer"
"Simon & Garfunkel was just a huge influence to me, [and] a big part of my childhood. Growing up, my father used to assign my brothers and sister and I chores on Sunday mornings and he would put his tunes on and crank 'em up. Simon & Garfunkel was always a huge part of that. My grandparents used to own a tavern when I was growing up and they sponsored the church festival every year with supplying the alcohol. And so my grandfather was a huge part of the parish, and my father and my uncle were at the festival enjoying themselves a couple too many beverages, and the song 'The Boxer' came on. During the chorus part, every time that that sound came in, they pounded their fists on the table to the point where they actually eventually broke the table and got kicked out. My grandfather was so pissed off because his son-in-laws were a poor representation of the family. So, it always takes me back to my childhood when I hear any Simon & Garfunkel, but especially 'The Boxer.' It reminds me of my dad and my uncle getting a little carried away."
He adds of the band's cover of "The Sound of Silence": "I'm a big Simon & Garfunkel fan. I made the suggestion in the first place for us to potentially cover 'The Sound Of Silence,' and then of course Dan took it the next step further and recommended that not only was it a good idea to cover that particular song, but we should do the orchestral version of it, which was not something I necessarily had in mind in the beginning. But, then of course with David's vocal delivery, he knocked it out of the park."
David Draiman: Kansas - "Dust in the Wind"
"One of my favorite songs is 'Dust in the Wind' by Kansas. [It's] just an absolutely beautiful song talking about the simplicity of our origins, and in a life which we sometimes take far too seriously. It sometimes helps to come back down to the very, very basics, and Kansas illustrated that very, very beautifully in this song."
Dan Donegan: Ronnie James Dio - "Rainbow in the Dark"
"The first guitar lick I ever learned how to play was Ronnie James Dio 'Rainbow in the Dark.' I remember being in my bedroom, I [had] just learned how to tune my guitar from a neighbor kid down the street who took guitar lessons, so I had no idea how to play. But I just grabbed the guitar and I kept focusing on it, watching the video for it, and I learned a riff and Ronnie James Dio, 'Rainbow in the Dark.'"
Listen to more of the band's favorite songs on Disturbed's Guest DJ Station on iHeartRadio!
Photo: Chris Owyoung for iHeartRadio
Chat About Disturbed Reveals Their Favorite Songs: Kansas, Simon & Garfunkel and More