Brett Young Details 'Ticket To L.A.,' Writing with Gavin DeGraw & More
By Taylor Fields
December 7, 2018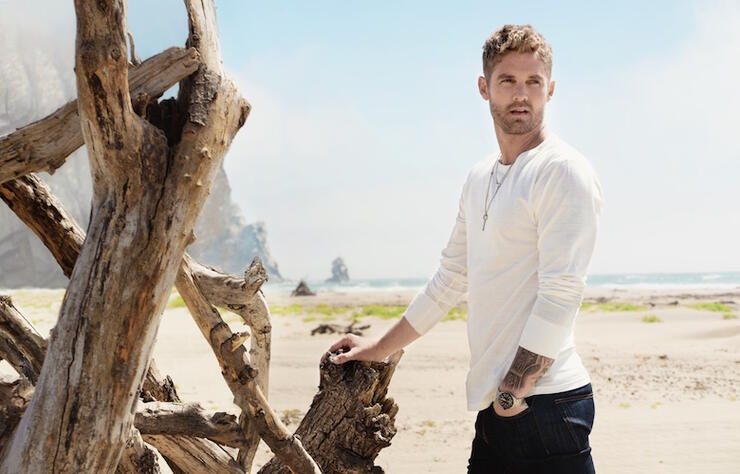 Brett Young has returned with his second full-length studio album, Ticket to L.A., which follows his 2017 self-titled debut album.
Ticket to L.A. showcases 13 new songs, including his single "Here Tonight," which was co-written by Lady Antebellum's Charles Kelley, and a collaboration with Gavin DeGraw (who Young is a big fan of) called "Chapters," as well as the LP's title track, "Ticket to L.A."
Young explains that this album is all about letting fans get to know him as he is today, as he has begun a new chapter in his life (he recently got married to his longtime love, who he wrote about on his first album). The country star tells iHeartRadio, "I think the first album was a really good way for me to introduce myself to people. It was extremely honest, personal, and vulnerable, and I think it's, unfortunately, a little bit easier to do that when you are sad, when you're at that place in your life, and I was. Me and my girl were broken up, and I was also new to Nashville and hadn't built a huge friend base yet. So I think that made it really easy for me to go a little bit dark and be a little bit extremely vulnerable. When you go there, when you get that personal and that honest, I think it's a really good way for people to start to get to know you."
He adds, "The risk you run is that as they're getting to know you, they think that that's who you are as a person, that you're always that way. And for me, it just reflects a place in my life. That's why it's gonna be so nice with this second record to have it reflect where I'm at now, which is a very uplifting happy place in my life. And with the second record, we're doing the same thing. I made sure that it's vulnerable and it's honest; it's just coming from a completely different stage in my life."
"Ticket To L.A." was born out of an idea that songwriters Jon Nite and Zach Crowell had while waiting during a layover in an airport. "John Knight and Zach Crowell were on their way to meet me on the road on the Lady Antebellum tour to write with me, and their layover in Saint Louis got delayed a long time," Young explains. "They were sitting there talking and they had this idea ... every song is about a bar it seems like, and why is there not a song about meeting a girl in an airport? So they had that idea, and I loved it."
Brett adds, "The other thing was the idea of, if you get delayed, you're held captive. Like, you're stuck there. I told them, and we all agreed, if we're going to do this it's going to be an undertaking. We're not going to write this one in three hours 'cause this is going to be a very specific story and it's going to be hard to cram in three and a half minutes, and we all agreed. Before we even started putting words to it, we really had to narrow down exactly what the story was, and I think the place that we got to that made me excited to start writing was when we decided that he wasn't even on her flight, but he never told her that the whole time. That was the part of it that made me excited. Like, this girl is going to assume the whole time that this guy is sitting here talking to her 'cause they're both delayed on their way to Los Angeles, and she's not going to realize they're not until she gets up to go get on the flight, but he doesn't go with her. That's what made me excited to write it. There are a lot of really cool details. Obviously we picked LA 'cause I'm from Southern California, but that flight from New York to Los Angeles, every business man in the world does that way more than they'd like to admit."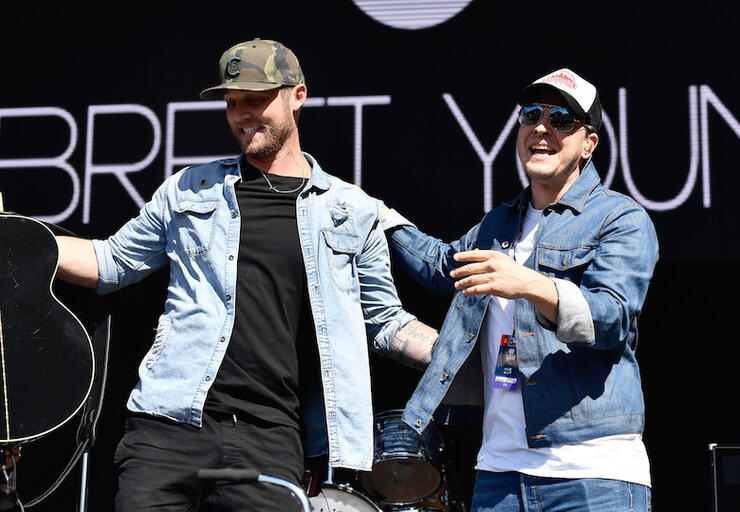 Fans of Brett Young already know what a big Gavin DeGraw fan he is. The two even performed together during the 2018 iHeartCountry Festival in Austin earlier this year. But, the guys took their friendship to the next level, and wrote a song together called "Chapters." Young explains:
"Anybody that's followed my career to this point and have read interviews, they've seen and heard that I have a huge admiration for Gavin DeGraw. His first record in his career has had a lot to do with me wanting to pursue this as a career and do this for a living. And we've been friends for years now, but this is the first time I've gotten the opportunity to get into a room and write a song with him, and it turned out to be one that was kind of the perfect collaboration to also have him sing on. There is a song on this record called 'Chapters' that I not only co-wrote with Gavin DeGraw and our friend, Ross Copperman, but that we also got to feature Gavin playing and singing on. It's really special to me and I think it's something a little different and really cool for the fans might not only listen to country music, but cross over and have been a fan of Gavin for a long time the way that I have."
Photo: Getty Images