Miley Cyrus & Mark Ronson Strip Down "Nothing Breaks Like a Heart": Watch
By Katrina Nattress
December 8, 2018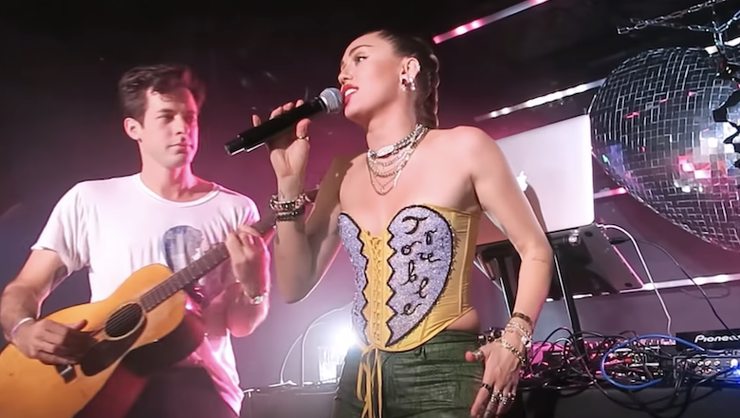 Last week, Miley Cyrus and Mark Ronson finally dropped their highly anticipated collaboration, "Nothing Breaks Like a Heart," and it lived up to the hype.
On Friday (December 7), the duo debuted the twangy track live during an intimate gig in the producer's hometown of London. The performance was supposed to be sung to a backing track, as Ronson stood behind his DJ equipment pumping up the audience, but Cyrus was having none of that.
"How many of my fans are in the audience now?" the pop star asked upon taking the stage. After applause rang throughout the club, she said "I gotta tell ya, Mark, my fans aren't usually hearing my vocals from the record playing at the same time as my vocals—I always sing live. So I think I should just do it like this." Without hesitating, the 26-year-old jumped right into an a cappella version of the song, putting the lyrics pain and heartbreak on full display as she sang "This world can hurt you/ It cuts you deep and leaves a scar/ Things fall apart, but nothing breaks like a heart/ Mhmm, and nothing breaks like a heart."
Halfway through the song, Ronson joined her front and center equipped with an acoustic guitar, and the crowd went wild.
Watch fan footage of the performance below.
Chat About Miley Cyrus & Mark Ronson Strip Down "Nothing Breaks Like a Heart": Watch