Shawn Mendes Doing Camila Cabello's Hair Is Too Cute: See The Pic!
By Paris Close
December 10, 2018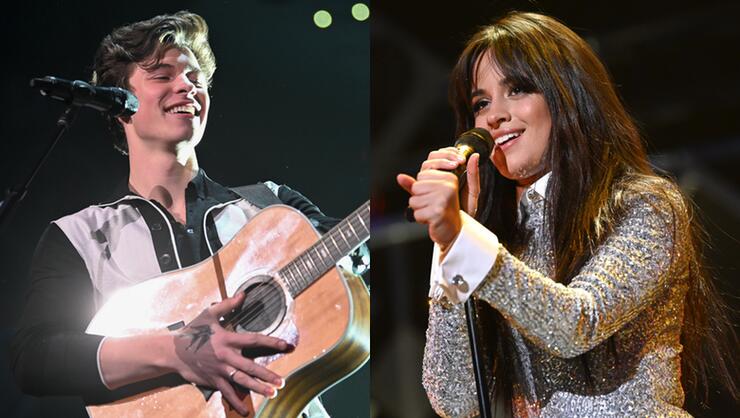 Friends who do each other's hair are basically best friends forever. And Shawn Mendes has been living up to his bestie role for his good friend Camila Cabello during the 2018 iHeartRadio Jingle Ball Tour.
On Sunday night (December 9), the "Never Be the Same" artist posted an image on social media of her hanging backstage with the crooner, who looks to be braiding Cabello's hair as she sits cross-legged, munching on a banana.
Captioned with a simple heart emoji, the scenario seems pretty random, but hey, that's what best friends are for, right? Besides, Shawnmila stans are totally loving it!
"SHAWNMILA IS BACK," one user tweeted beneath the photo. Another wrote, "sToP iT i cAnT hAndLe aNy mOrE fRieNdsHip gOalS cOntEnT."
See the pic and more reactions below.
The image appears a week after the "I Know What You Did Last Summer" collaborators teased a songwriting sesh, presumably for a sequel to their 2015 smash. "Canadian fury + Latin sass," the "Havana" musician wrote beside the image via Instagram, which portrayed her, guitar in hand, and the "Lost in Japan" heartthrob chilling backstage at Boston's TD Garden at KISS 108's Jingle Ball.
In related news, Mendes and Cabello recently received nominations for the 2019 Grammy Awards. The Canadian star is up for Song of the Year ("In My Blood") and Cabello's "Havana (Live)" earned her a slot for Best Pop Solo Performance. Both musicians are also in the running for Best Pop Vocal Album for their respective self-titled albums.
Photo: Brian Friedman for iHeartRadio
Chat About Shawn Mendes Doing Camila Cabello's Hair Is Too Cute: See The Pic!