Avril Lavigne Sings The Blues On Her New Single 'Tell Me It's Over'
By James Dinh
December 12, 2018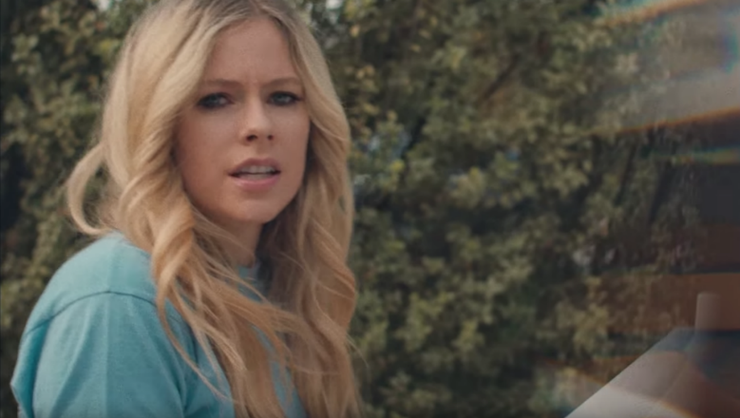 Avril Lavigne traded in her signature pop/rock sound for something a little more retro on her new heartbreak single, "Tell Me It's Over," which was released alongside its official music video on Wednesday (December 12).
As a follow-up to her comeback track, "Head Above Water," the brand-new single, which was co-written by Lavigne, Johan Carlsson, Justin Gray, Ryan Cabrera and Melissa Bel, hears the 34-year-old star sing a sad tale of broken romance. "Tell me it's over/ If it's really over/ 'Cause it don't feel like it's over whenever you're closing the door, no/ So tell me it's over" the pop star sings on the hook. In addition to the track, Lavigne shared the release date for her accompanying LP, Head Above Water, which is scheduled to drop on February 15, 2019. Click here to pre-order the set!
"'Tell Me It's Over' is an anthem about being strong, finally putting your foot down and closing the door on a relationship that you know is wrong after time and time again of falling for their games," Lavigne said in a statement. "If someone doesn't treat you the way you deserve to be treated, don't put up with it. It's understandably so hard because in the past every time you saw them, they sucked you in and you fell right back into their web, but not anymore starting now!
Wondering why the track is such a departure from her usual territory? Lavigne admitted that she wanted to pen a song that was in the vein of some classic female titans. "I wanted to write something classic and have been inspired by some of the timeless queens I listen to everyday at home, Billie Holiday, Ella Fitzgerald, Aretha Franklin, and Etta James," she admitted. "They represent women who stand up for women and aren't going to put up with a man's bullsh*t anymore!"
Photo: YouTube/Avril Lavigne
Chat About Avril Lavigne Sings The Blues On Her New Single 'Tell Me It's Over'