Miley Cyrus Drops 'Happy Xmas' Cover With Mark Ronson & Sean Ono Lennon
By Hayden Brooks
December 14, 2018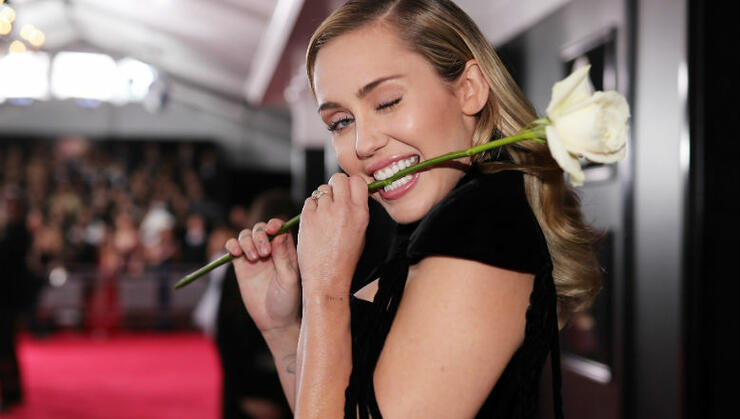 In the middle of her heavy promotional blitz for "Nothing Breaks Like A Heart," Miley Cyrus has shared an early holiday gift in the form of "War Is Over (Happy Xmas)," her new collaboration with super-producer Mark Ronson and Sean Ono Lennon, son of the song's creators John Lennon and Yoko Ono.
Originally released in 1971 by John & Yoko and The Plastic Ono Band, "War Is Over (Happy Xmas)" has been covered several times from the likes of Neil Diamond, Diana Ross and more, but Cyrus' spin on the Christmas classic is strong, with her stellar pipes taking the forefront of things. On her Thursday night (December 13) appearance on The Tonight Show, Cyrus gushed about Sean's vocals on the song, which was recorded at New York City's famed Electric Lady Studios. "His voice is just so special and I think more than just inheriting the voice or the way he looks or whatever, it's about the magic he has," she told Jimmy Fallon. "I think that's what he's inherited more than anything. It's this radiant magic."
It's yet another appetizer before Cyrus delivers her follow-up to 2017's Younger Now, which will reportedly feature more production from Ronson, Mike Will Made-It and Andrew Wyatt of Miike Snow. Expect to see Cyrus and Ronson perform the staple and the recently released "Nothing Breaks Like A Heart" during their weekend musical stint on Saturday Night Live.
Chat About Miley Cyrus Drops 'Happy Xmas' Cover With Mark Ronson & Sean Ono Lennon