Jordan Fisher's 'Hamilton' Prep: A Play-By-Play Of His Day | #Unfiltered
By James Dinh
February 25, 2017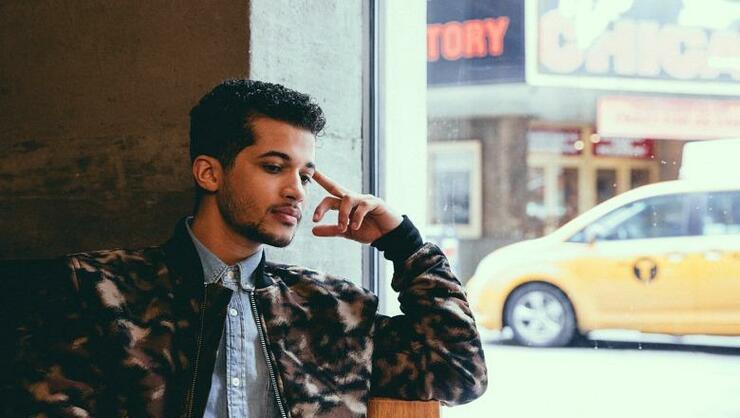 #Unfiltered gives fans an exclusive glimpse at a day in the life of some of your favorite stars. From behind-the-scenes photos to candid quotes, iHeartRadio's latest series is all about providing readers with a one-of-a-kind look into the routines of the rich and famous.
Before stepping foot into his acting roles on Disney, the pop star landscape or even his stint in Grease: Live, Jordan Fisher's aspirations to join Broadway have always been the ultimate goal. As it turns out, the 22-year-old's goal became a dream come true in November 2016 when he stepped into the shoes of John Laurens and Philip Hamilton in Lin-Manuel Miranda's Tony and Pulitzer-winning musical, Hamilton: An American Musical. That's double the responsibilities and double the excitement for his Broadway debut.
With less than two weeks until he wraps his guest stint, iHeartRadio spent the day with the multi-talent prior to his matinee performance to get to know the man behind the charm. Between our time meandering through Hell's Kitchen and on the sidelines of behind-the-scenes production, we experienced it all, including an actual showing of the juggernaut musical. Take a look below for our play-by-play with Fisher in our first installment of #Unfiltered.
9:55 AM: It's late-February and almost 50 degrees outside, so a stroll to Jordan Fisher's apartment in midtown Manhattan feels like the perfect way to jumpstart the day. It's the meet-up spot for both Team Fisher and iHeartRadio to start our shoot. After entering his luxury apartment building, a friendly doorman greets us as we peer our eyes around the lobby for the nearest wall outlet.
10:10 AM: Tony Smith, VP of Promotion at Hollywood Records, Katherine Tyler, iHeartRadio's National Photo Director and Emily Taylor, Jordan's publicist, take part in some pleasantries. Emily advises us that the man of the hour will be down in a few moments. Let this be a momentary warning for any forthcoming FOMO.
10:14 AM: Jordan arrives in the lobby with his adorable pug Sora in-tow. Before we begin our day, we head to a nearby doggy daycare to drop off the little one.
10:23 AM: If you've ever walked into a Starbucks during morning rush hour, you know that about the madness, so our next option is pretty obvious: the nearest Caffe Bene. Don't underestimate the power or morning caffeine, especially with New Yorkers.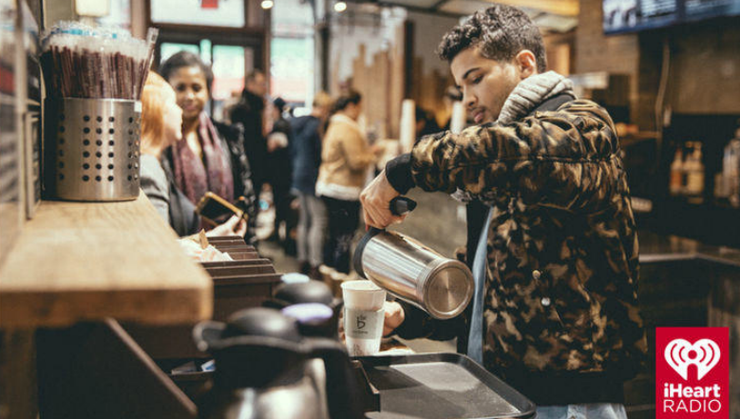 10:27 AM: As Tony and Jordan talk about the ever-growing restaurant scene in Hells Kitchen, we come across a poster for "Spamilton," the satirical off-Broadway parody, to which Jordan describes as "so funny." Note: Lin-Manuel has also co-signed the production, calling the show "brilliant."
10:40 AM: After passing a quaint restaurant called Shokudo, he reminisces about the moment he accepted the Hamilton offer. "The little Japanese place ... They play old anime films and stuff. My first day here [in New York] happened 40 hours after I got the call here about coming to do the show. I went from Nashville to LA to New York within 40 hours and started rehearsals. It was very quick. It was very last minute," the former gymnast admits.
11:00 AM: After purchasing one coffee, two cups of teas and two waffles, we find a spot in the back of Caffe Bene to sit back and chat it up. Just two years into his early twenties, it's evident that Jordan knows how to balance professional and personal endeavors. "Sometimes I have to go off the grid. If it's 10 minutes [or] it's 10 hours [or] it's 10 days ... sometimes I need to let the world spin without me to make sure that I'm fine and taken care of," he says diplomatically.
11:36 AM: At this point, the convo transitions to sports and everyone is chiming in. Jordan recalls the beginning of his fandom for the New York Knicks and confesses at it all started when he was just 14-years-old. He says it's, in part due to watching so much of Friends.
11:45 AM: Before you know it, we're closing in on Jordan's call time for his matinee performance, so that's our cue to pack it up.
11:59 AM: We turn at West 46th St. and see the beaming bulbs of the Richard Rodgers Theatre. We have arrived. Let me repeat: We have arrived at the Richard Rodgers Theatre, where Jordan Fisher will continue living his dream (literally) with his roles in Hamilton: An American Musical.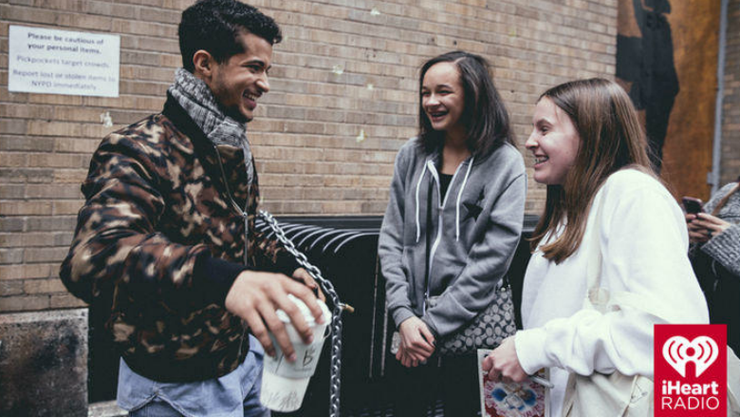 12:02 PM: Despite maintaining his anonymity for the course of our time, there's no hiding Jordan is at work, especially amongst a group of teenage girls. In comes a number of selfie opportunities!
12:05 PM: Mere minutes have passed, but we're now onstage of the iconic venue, where Jordan is recalling his very first show. "I stood right here and made my Broadway debut in this space," he says, stepping into the exact spot. "[During] my very first night, there were 1,340 people. My family's in the audience. There's a couple of my best friends, some team members, a couple actors that I admire, artists that I admire. . . .Everybody's just right here doing [it]. They're all expecting me to do well and so it ended as quickly as it started it seemed and the show begins and then all of a sudden it's two hours and 45 minutes that doesn't stop."
12:15 PM: Jordan makes his way to the empty seats and shows us the very seat he sat in the first time he watched the production. "I lost my mind," he admits. The feeling is real.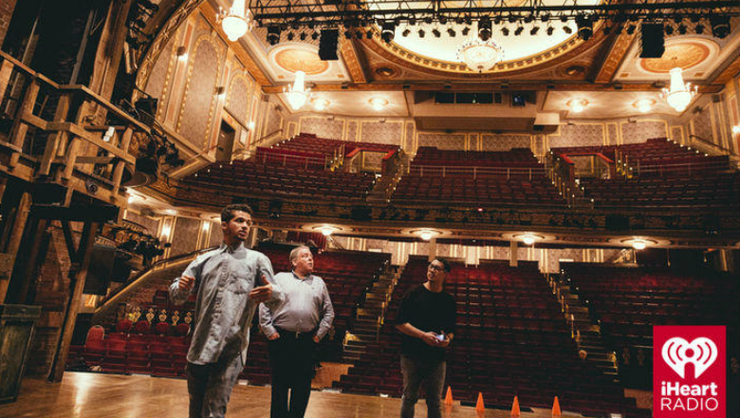 12:20 PM: We make our way to one of the backstage areas with wardrobe, where Jordan explains his different ensembles for the show. In case you're wondering, he changes more frequently during Act Two.
12:30 PM: Inside of his cushy dressing room, which he shares with co-star J. Quinton Johnson, the show's Publicity Assistant, Miguel Mendiola, stops by to greet Fisher. Small talk shifts to a playful wishlist chat about hip-hop and R&B stars they'd like to see guest on the show. Among some of the noted names include Ludacris, Usher, Queen Latifah and Eminem.
12:50 PM: We're less than two hours out from showtime, so we depart Jordan and his team for a quick lunch and anxiously await showtime. DID WE TELL YOU WE'RE EXCITED?
1:13 PM: At this point, things are a little hectic. We scarf down some lunch, work on some of our footage from a nearby cafeteria and, before you know it, we're back to the theater to join the swarm of folks entering the theater.
2:02 PM: ITS SHOWTIME. BRB!
4:40 PM: We didn't take many notes during the show, but if we're honest, we were probably crying sometime around this time. You try and make it through that last scene.
5:03 PM: It takes some time to empty the venue, but select attendees use their final moments to capture photos on stage. We offer our goodbyes to Jordan as fans excitedly take in that feeling of being on stage. With over three months of shows under his belt, it becomes apparent that Jordan will have to do the very same himself on March 5.
If you're in the New York City area, you can catch Fisher as John Laurens and Philip Hamilton in Hamilton: An American Musical before he wraps up his stint on March 5. If you want to see more of the action that went down during our #Unfiltered with Jordan Fisher, take a look below!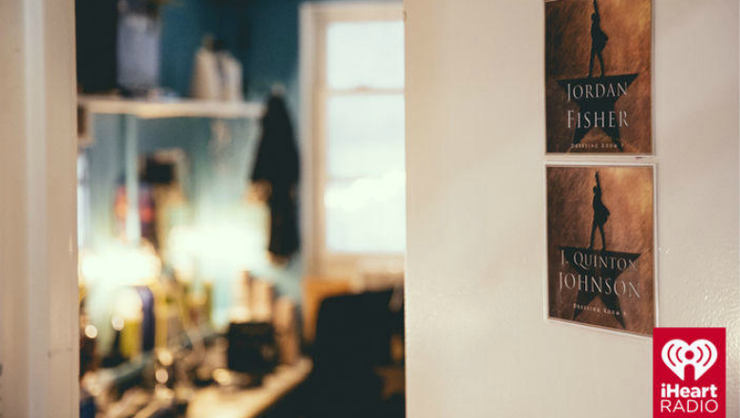 Jordan Fisher gave us an exclusive behind the scenes experience at the world famous Hamilton: An American Musical. #iHeartJordan

Posted by iHeartRadio on Saturday, February 25, 2017
Photo: Katherine Tyler for iHeartRadio
Chat About Jordan Fisher's 'Hamilton' Prep: A Play-By-Play Of His Day | #Unfiltered