Demi Lovato Shares Text Message She Received From The Late Aretha Franklin
By Hayden Brooks
December 19, 2018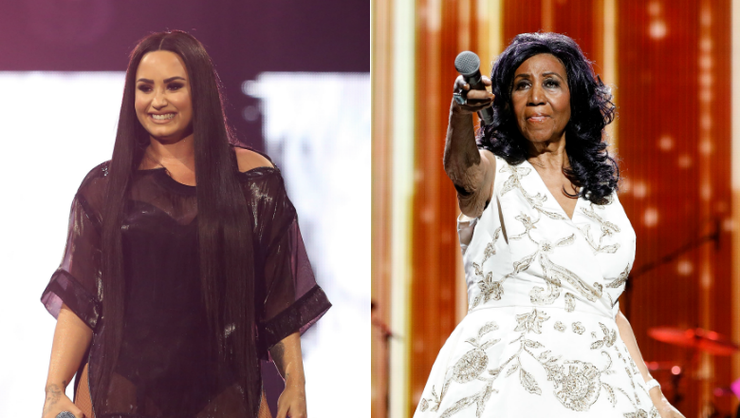 Demi Lovato spent most of her summer recovering from her alleged overdose that occurred after celebrating her backup dancer's birthday, so it goes without saying that the pop star wasn't able to pay tribute to the late, great Aretha Franklin's passing in August.
On Tuesday (December 18), the 26-year-old star seemed to make up for that when she took to Instagram Story to share a screen cap of a holiday greeting text message that she received from the Queen of Soul in 2017. "Still can't believe that one year ago today the queen of soul herself texted me to wish me happy holidays…we miss you queen," Lovato captioned the shot, adding, "RIP Aretha."
Franklin passed away in mid-August "due to advance pancreatic cancer of the neuroendocrine type" in Detroit, where she was surrounded by her friends and family, as per the Associated Press. Her family released a statement, calling Franklin's death "one of the darkest moments of [their] lives." "We have lost the matriarch and rock of our family. The love she had for her children, grandchildren, nieces, nephews, and cousins knew no bounds," the statement read. She was 76.
Meanwhile, Lovato's road to recovery seems to be going well. Her friend Sheila O'Neill recently shared a strip of photobooth shots of them during their stints in rehab. Even though she didn't share too much context behind the photos, O'Neill tagged the location as Sundance Mountain Resort, which is in Utah. "I have always been transparent about my journey with addiction. What I've learned is that this illness is not something that disappears or fades with time," Lovato wrote on Instagram in early August. "It is something I must continue to overcome and have not done yet."
Chat About Demi Lovato Shares Text Message She Received From The Late Aretha Franklin