Travis Barker and Joel Madden Are Starting a Punk Project With Vic Mensa
By Katrina Nattress
December 19, 2018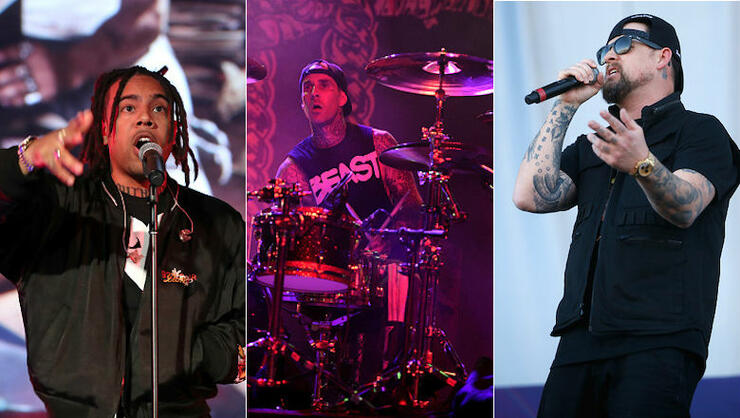 Vic Mensa is a force to be reckoned with in the hip hop scene, but he's also not afraid to wear his rock influences on his sleeve. In 2016, he freestyled over Twenty One Pilots' "Heathens" instrumentals, and in September teamed up with Travis Barker and THE FEVER 333 for a remix of "Made An America." Now, the rapper is detailing a new project with the blink-182 drummer.
During a recent interview, Mensa discussed his new clothing line, 93 Punx, and also revealed that will be the name of his upcoming punk project with Barker and Good Charlotte's Joel Madden.
"That's a line I'm doing, that's going to be releasing with a project that's like a punk project, another EP basically that I did," he explained. "So, Hooligans (his last EP), I had these different energies, just rap songs that I made, not particularly for a project, throughout the year.
"I also was making this punk music, he continued. "As I came to have these two different separate entities, I was like, 'OK, let me not try to just mash all of these together and have to compromise being to go all the way.' I took the records that were more in a rap space and made this project out of them. And the punk records are going to be on that album."
After divulging that Barker is working with him, hopefully as an executive producer, Mensa went on to discuss his influences and Madden's involvement.
"The Clash and the Dead Kennedys are my two favorite bands, but I'm also pulling inspiration from places like, obviously blink," he said. "I got an ill record on there from Joel Madden from Good Charlotte. I had H.R. from Bad Brains in the studio."
The album is slated to come out next Spring.
Photo: Getty Images
Chat About Travis Barker and Joel Madden Are Starting a Punk Project With Vic Mensa