Travis Scott Says He's "Gotta Propose" To Kylie Jenner "In A Fire Way"
By Emily Lee
December 20, 2018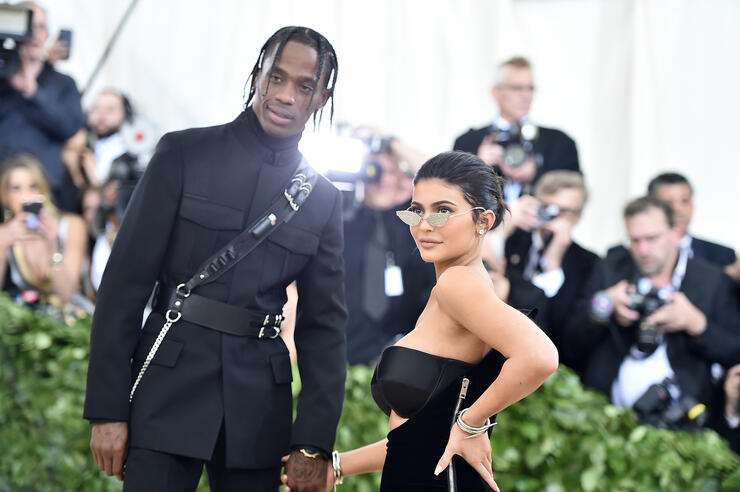 Despite speculation that Travis Scott and Kylie Jenner have secretly tied the knot, the 26-year-old rapper revealed they're not even engaged yet in a new interview with Rolling Stone. Just because he hasn't proposed yet, though, doesn't mean he's not thinking about it.
"It got to a point where I was like, 'I need [Kylie] with me to operate. She's that one'," Travis said of his girlfriend, with whom he shares 10-month-old daughter Stormi. "We'll get married soon. I just gotta sturdy up — I gotta propose in a fire way."
He also spoke about their whirlwind early romance, revealing that Stormi was conceived just three weeks after they met. In the very early days of their relationship, he was surprised about how quickly they formed a serious bond. "We was just two kids, f—g around. Maybe, like, the first week, you don't know if it's real or a fling," he said. "Then the second week you're like, 'Whoa, I'm still talking to her, she's responding, I'm responding. We ain't run out of a thing to say.'"
Despite a surprise pregnancy at the outset of their new relationship, Kylie and Travis had the same reaction to the unexpected news. "We felt like, 'This is something special.' And kids are something we kind of talked about when we were getting busy," he explained. "At first, I was like, 'Man, I need a son.' When we found out it was a girl, I was like, 'Huhhh.' But after a while I was like, 'Yo, this might be the illest thing that ever happened.' And when Stormi was born, I was like, 'Life is fire, bro.'"
Travis continued to rave about Kylie in the interview, telling Rolling Stone how "chill" the makeup mogul really is. "People don't understand how real my girl is. How ill she is," he said. "They have assumptions, bulls—t-ass remarks of what they think is going on. Nah, bro."
"I like to just go outside and walk. Knowing a girl that famous, you'd think she's like, 'I need to go send somebody to do this for me,' or 'I need 15 motherf—s around me,' but we just walk out the crib," he continued. "Me, I hate cameras. I don't like people in my business. Going into a situation like that, you'd think it would be a whole public fest. You never know. 'Maybe she's into all the photos, or worried about this and that.' And then you realize motherf—s is normal as possible. I realized what really mattered to her, which is none of this s—t. She's the coolest motherf—r of all time."
We can't wait to see the "fire" proposal Travis comes up.
Photo: Getty
Chat About Travis Scott Says He's "Gotta Propose" To Kylie Jenner "In A Fire Way"