Miley Cyrus & Mark Ronson Give 'Santa Baby' A Major Feminist Makeover
By James Dinh
December 21, 2018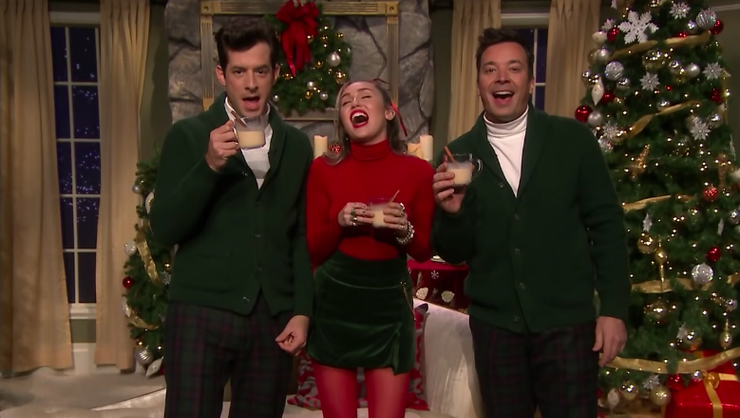 As the culture has shifted to a more socially conscious mindset, some things haven't aged so gracefully, including Eartha Kitt's holiday classic, "Santa Baby," which has recently been criticized for some sexist lyrics. Thankfully, Miley Cyrus and Mark Ronson offered the age-old Christmas track with a 2018 facelift during their recent promotional blitz and it's all that and more.
During the Thursday episode (December 20) of The Tonight Show Starring Jimmy Fallon, the pop duo partook in a live sketch performance of the song with the late-night host and it was executed all too well. Instead of keeping the original lyrics to the song, which focus on all the pricey gift requests from Santa Claus, Cyrus opted to switch up the lyrics to request some gender equality and respect under the Christmas tree this year. "Santa baby, I'd love to know my ass won't get grabbed at work, by some ignorant jerk," she sang. "Tell the dirt back to put away the chimney tonight."
Now, the only thing we need from Cyrus is for her to actually record this version of "Santa Baby" because the age-old song could use a permanent facelift across all platforms. Expect more from Cyrus and Ronson in 2019 as the pair is reportedly working on more music to follow-up "Nothing Breaks Like a Heart" for the pop star's next full-length studio album.
Photo: YouTube/The Tonight Show Starring Jimmy Fallon
Chat About Miley Cyrus & Mark Ronson Give 'Santa Baby' A Major Feminist Makeover