Zac Brown Band Drops New Video For People Struggling During The Holidays
By Hayden Brook
December 22, 2018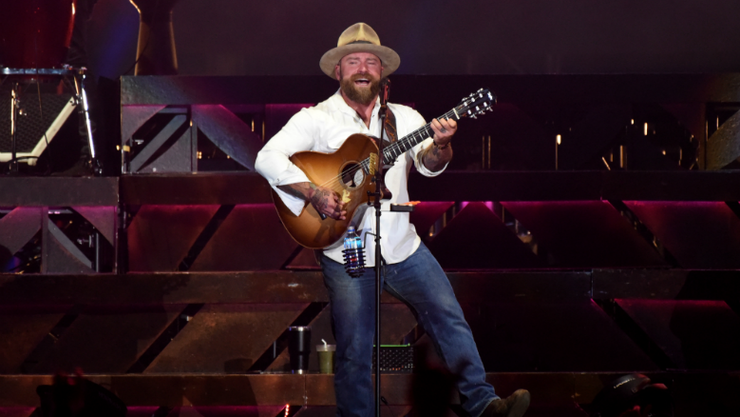 Zac Brown Band have stepped up to the plate and released a music video for "Somebody I Used To Know," which is dedicated to all of those who might be suffering from the blues this holiday season.
In the four-minute video, viewers see the life of a young man played by Hunger Games actor Alexander Ludwig unravel after he enlists in the military and survives active duty overseas. Gone are his days as a star college football player because the character gets injured on the battlefield. When he comes back home, he is wrapped up in the trauma of war and reaches for the beer bottle instead of a helping hand. At the end of the clip, he does turn to his family, friends, and girlfriend for guidance, signifying the clip's strong story of hope and healing.
"The holidays are a time when people feel a lot of pressure, and I think it's good to remind everybody that it's okay to be human. It's okay to ask for help," Brown told PEOPLE in a statement. While the 40-year-old singer said that he feels "really blessed" that he doesn't feel glum around the holiday season, he has faced his own trials with adversity, particularly when he and his wife Shelly announced in October that they were separating after 12 years of marriage.
"Personally, overcoming things in my life," he continued. "I'd love to be able to share this with other people. I've lost dear friends to suicide. Whatever was gnawing at them, whatever was eating at them that we didn't know and couldn't see, it obviously felt bigger to them than asking for help and having someone else go through it with them. It made me realize, too, that I don't want to be that person that can't face themselves and get to the other side so that I can be well for myself and for everybody else around me."
"Somebody I Used To Know" arrives in the middle of their "Down the Rabbit Hole Live Tour," which is set to continue in 2019 as they complete their new studio album.
Chat About Zac Brown Band Drops New Video For People Struggling During The Holidays