How to Watch The 2019 iHeartRadio Podcast Awards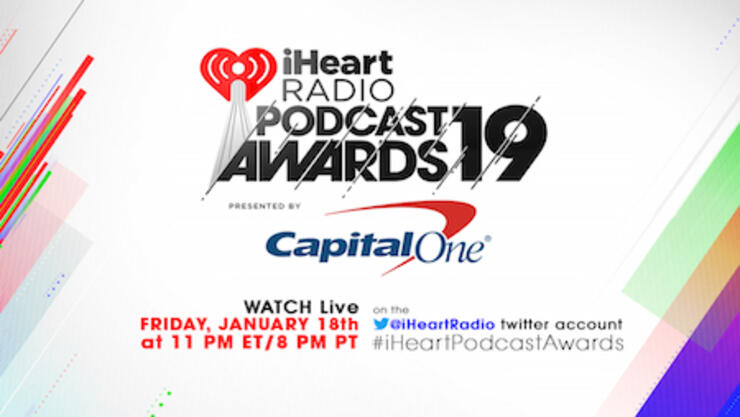 With the popularity of podcasts on the rise, it's time to celebrate some of the best podcasts out there. The first-ever iHeartRadio Podcast Awards Presented By Capital One® will take place on Friday January 18th at the iHeartRadio Theater Los Angeles and fans can watch live!
Fans can watch the inaugural iHeartRadio Podcast Awards live on Twitter account at 11pm ET/8pm PT on January 18th.
With 22 categories, the event will honor the most entertaining and innovative podcasts of 2018, as well as celebrate podcast fans, as iHeartRadio gave listeners the opportunity to decide the winners in 17 of the 22 categories with podcasts "Atlanta Monster," "Dirty John," "Hardcore History," "Joe Rogan," "Radiolab," "Serial," "Slow Burn," "Stuff You Should Know," "The Daily" and "The Habitat" nominated for Podcast of the Year.
Hosted by Holly Frey, co-host of "Stuff You Missed in History Class" (one of today's biggest history podcast), Charlamagne Tha God, nationally-syndicated on-air host and co-host of "The Brilliant Idiots" and "The Breakfast Club" podcasts, and Bobby Bones, top Country radio host, multiplatform personality and host of the leading Country music focused podcast "Bobbycast" and creator of the Nashville Podcast Network, the event will run 90 minutes and will include a live audience with a live stream hosted by on-air and TV personality Mario Lopez.
Presenters during the awards show include Payne Lindsay ("Up & Vanished"), Aaron Mahnke ("Lore"), Jake Brennan ("Disgraceland") and Marc Smerling ("Crimetown"), and more.
Among the honorees for the evening will be NPR who will be receiving the very first iHeartRadio Podcast Pioneer Award. iHeartRadio will recognize NPR for being a driving and innovative force in the creation of the podcasting industry, and will pay tribute to the renowned non-profit multimedia organization's groundbreaking contributions to podcasting's expanding role in today's popular culture.
Make sure to tune in on January 18th to find out the winners. Fans can also follow along on social media and join the conversation by using the hashtag #iHeartPodcastAwards on Twitter, Facebook and Instagram.