Madonna Delivers Surprise NYE Performance At Stonewall Inn
By Hayden Brooks
January 2, 2019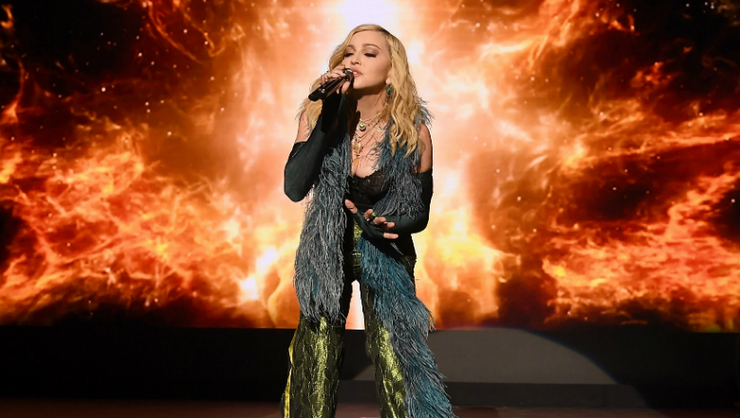 Madonna welcomed the New Year by dropping by New York City's Stonewall Inn for an impromptu performance at the historic LGBTQ staple after being named an ambassador ahead of the venue's upcoming 50th year anniversary.
On Tuesday morning (January 1), the Queen of Pop took to the stage shortly after midnight to perform acoustic versions of "Like a Prayer" and Elvis Presley's 1961 hit "Can't Help Falling in Love" alongside her 13-year-old son David Banda. "If we truly look and we truly take the time to get to know one another, we would find that we all bleed the same color and we all need to love and be loved," she reportedly told the crowd via EW. "As we stand here together tonight, let's remember who we are fighting for and what we are fighting for — we are fighting for ourselves, we are fighting for each other, but truly and most importantly, what are we fighting for?"
Later on, Madge encouraged the audience to "reflect on how we can bring more love and peace into 2019," insisting that committing disarming people with acts of kindness can be a good tactic. "Let's be counterintuitive. Share what you know with someone you don't agree with. Think about that. Try it. Get outside your comfort zone. Let's try to be more forgiving," she said. "Maybe we can find an opening to let the light come in."
Madge's mini-concert was a total surprise, but not entirely out of the blue. In late December, Pride Live deemed her an ambassador for the bar's commemorations of the 50th anniversary of the 1969 Stonewall Riots, a symbolic start to the modern day LGBTQ rights movement.
Chat About Madonna Delivers Surprise NYE Performance At Stonewall Inn