These Are The Most Popular New Year's Resolutions In America
By Emily Lee
January 2, 2019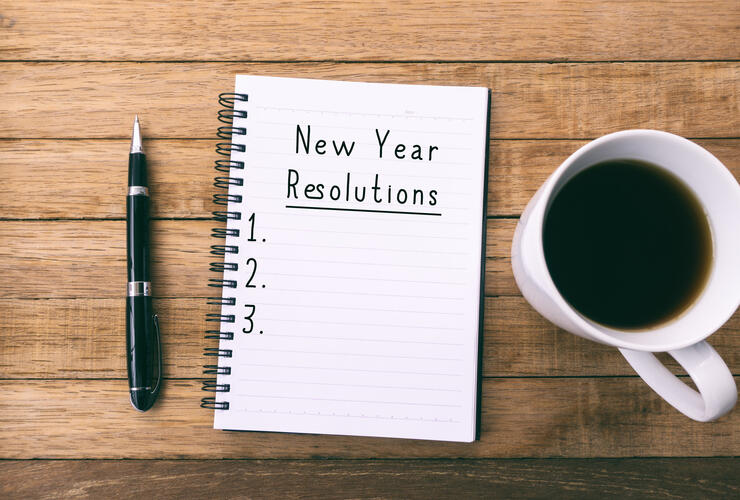 It's the time of year to set goals for yourself as we head into the new year. You know what they say: new year, new you! If you're feeling alone in your health and fitness resolutions this year, you shouldn't because there are a ton of people across the county setting the same goals for themselves. Our friends at Termlife2go researched the most popular new year's resolutions in the United States, so, you can see we're really all in this together.
Termlife2go identified the most frequently searched terms in each fitness-related category on Google Trends during New Year's Eve and New Year's Day last year. To learn which states had the highest search volume for each, Termlife2go then ran these terms (along with any corresponding resolutions) back through Google Trends resolution.
Here are the results: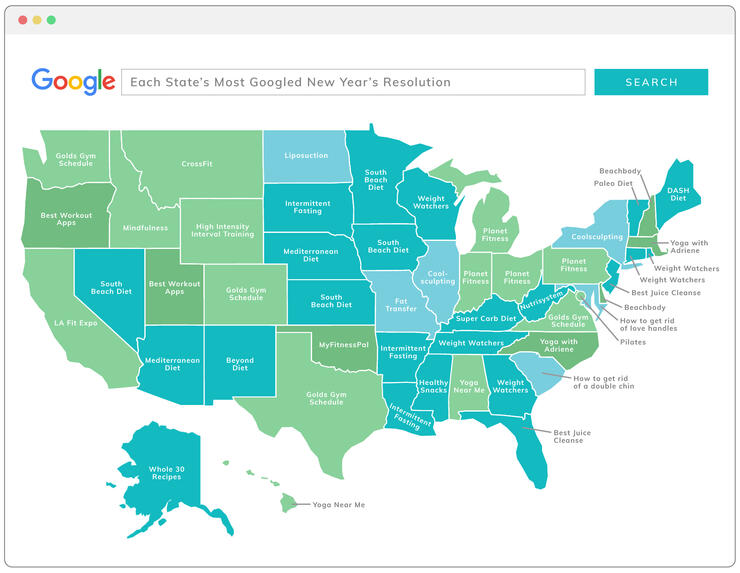 The Most Popular New Year's Resolutions in America:
Alabama: Yoga near me
Alaska: Whole 30 recipes
Arizona: Mediterranean diet
Arkansas: Intermittent fasting
California: LA Fit Expo
Colorado: Golds Gym schedule
Connecticut: Weight Watchers
DC: Pilates
Delaware: Beachbody
Florida: Best juice cleanse
Georgia: Weight Watchers
Hawaii: Yoga near me
Idaho: Mindfulness
Illinois: Coolsculpting
Indiana: Planet Fitness
Iowa: South Beach diet
Kansas: South Beach diet
Kentucky: Super Carb Diet
Louisiana: Intermittent fasting
Maine: DASH diet
Maryland: How to get rid of love handles
Massachusetts: Yoga with Adriene
Michigan: Planet Fitness
Minnesota: South Beach diet
Mississippi: Healthy snacks
Missouri: Fat transfer
Montana: CrossFit
Nebraska: Mediterranean diet
Nevada: South Beach diet
New Hampshire: Beachbody
New Jersey: Best juice cleanse
New Mexico: Beyond Diet
New York: Coolsculpting
North Carolina: Yoga with Adriene
North Dakota: Liposuction
Ohio: Planet Fitness
Oklahoma: MyFitnessPal
Oregon: Best workout apps
Pennsylvania: Planet Fitness
Rhode Island: Weight Watchers
South Carolina: How to get rid of a double chin
South Dakota: Intermittent fasting
Tennessee: Weight Watchers
Texas: Golds Gym schedule
Utah: Best workout apps
Vermont: Paleo diet
Virginia: Golds Gym schedule
Washington: Golds Gym schedule
West Virginia: Nutrisystem
Wisconsin: Weight Watchers
Wyoming: High-Intensity Interval Training
For more information on popular resolutions, visit Termlife2go here.
Chat About These Are The Most Popular New Year's Resolutions In America