Arctic Monkeys, Nirvana, and The 1975 Among Top-Selling Vinyl in 2018
By Katrina Nattress
January 4, 2019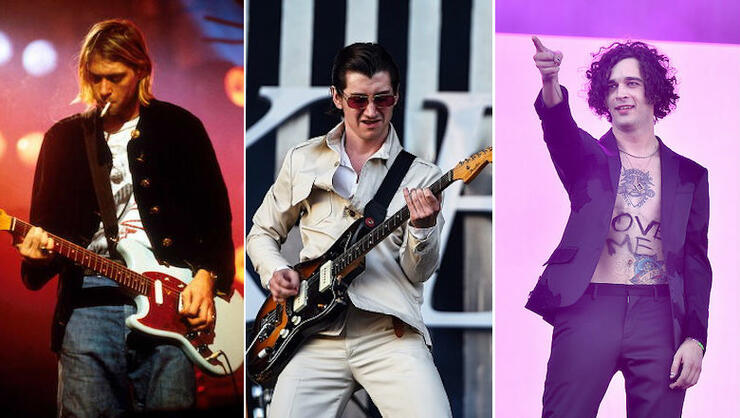 Vinyl sales have been on the up in recent years, and that trend continued in 2018. While music streaming is the main way listeners consume music these days, audiophiles can't help but love holding a physical copy (and nerding out over analog sound). Official Charts recently shared its annual list of the top 40 vinyl record sales last year, and the results are interesting.
Arctic Monkeys top the list with their latest effort (and one of our favorite albums of the year), Tranquility Base Hotel & Casino; however, the rest of the top records vary from movie soundtracks to albums that came out decades ago.
Check out the Top 20 best-selling vinyl records of 2018 below and peep the full Top 40 here.
1. Arctic Monkeys – Tranquility Base Hotel & Casino
2. The Greatest Showman OST
3. Fleetwood Mac – Rumours
4. Queen – Greatest Hits5. Pink Floyd – The Dark Side Of The Moon
6. George Ezra – Staying At Tamara's
7. Nirvana – Nevermind
8. Oasis – (What's The Story) Morning Glory?
9. David Bowie – Legacy
10. Amy Winehouse – Back To Black
11. Jeff Wayne – The War Of The Worlds
12. Guardians Of The Galaxy, Awesome Mix 1 OST
13. The Stone Roses – The Stone Roses
14. Ed Sheeran – Divide
15. Guardians Of The Galaxy, Awesome Mix 2 OST
16. Bob Marley & The Wailers – Legend
17. The Beatles – The Beatles
18. Arctic Monkeys – AM
19. Oasis – Definitely Maybe
20. The 1975 – A Brief Inquiry Into Online Relationships
Photo: Getty Images
Chat About Arctic Monkeys, Nirvana, and The 1975 Among Top-Selling Vinyl in 2018