Kendall Jenner's 'Brave' Announcement Earns Mixed Reactions On Twitter
By Paris Close
January 7, 2019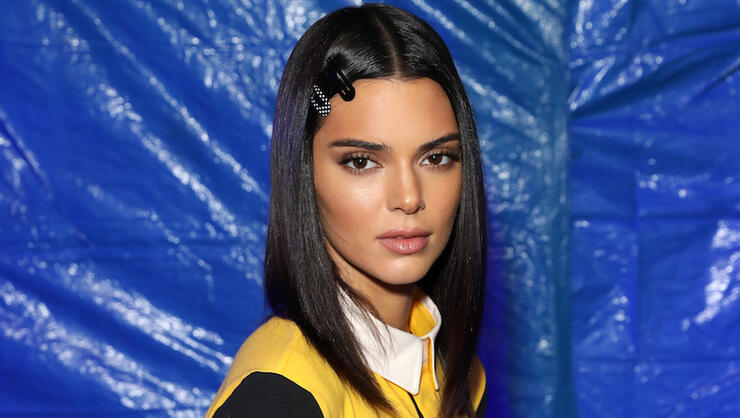 Kendall Jenner's big news was met with an even bigger side-eye over the weekend.
The model's famous manager mother, Kris Jenner, made everyone all nervous on Saturday (January 5) when she teased a campaign on Instagram for what she swore up and down would be Kendall's most courageous confession yet.
"I'm so proud of my darling @KendallJenner for being so brave and vulnerable. Seeing you share your most raw story in order to make a positive impact for so many people and help foster a positive dialogue is a testament to the incredible woman you've become," Kris captioned a video post, reminding followers to "Make sure to watch Kendall's Twitter on Sunday night to find out what I'm talking about and be prepared to be moved."
Kris made matters more urgent by pairing the post with hashtags like "#bethechange," "#shareyourstory" and "#getready."
So what's the "raw," untold story of Kendall Jenner, you ask? She has acne — just like us — and oh yeah, she's also the new face of Proactiv. Go figures.
Kendall announced her endorsement news on Twitter with a video of her expressing her struggles with skincare. "I remember going online after and reading all the horrible things people were saying about me, and my skin," the 22-year-old recalls in the clip above.
Given the runway star's posh lifestyle and rep as a spotless beauty queen in the media, many fans didn't know how to receive her admission — some even called it "the most kris jenner thing ever." What do you think?
See some of the most entertaining reactions on Twitter below.
Sure A Star Is Born was an emotional roller coaster of sadness and triumph but have you seen's Kendall Jenner's ad for Proactiv

— Dan It's A Checkmark 💎 (@DanRussBailey) January 7, 2019
kris jenner telling everyone to prepare to be moved by kendall because she's set to reveal a deep and personal story that actually ended up being a f*cking proactiv commercial is honestly the most kris jenner thing ever

— stephen ossola (@stephenossola) January 7, 2019
I mean we all still love her but all this over a brand deal reveal and her explaining she has acne problems which we knew already. Genuinely thought it was something serious and unknown about her..

— Emma (@emmacringle17) January 7, 2019
wait..... Kendall Jenner's big announcement is that she's collaborating with Proactiv...???? LMFAOOOOOOOOOO

— frank costa (@feistyfrank) January 7, 2019
Kendall Jenner gets 3000 dollar facials wearing head to toe Balenciaga in between shoots for Vogue I promise you she's not using proactiv

— ELECTRIC CHAIR (@rihannasgayson) January 7, 2019
Chat About Kendall Jenner's 'Brave' Announcement Earns Mixed Reactions On Twitter