Scotty McCreery & Wife Welcome A New Dog To Their Family
By Hayden Brooks
January 7, 2019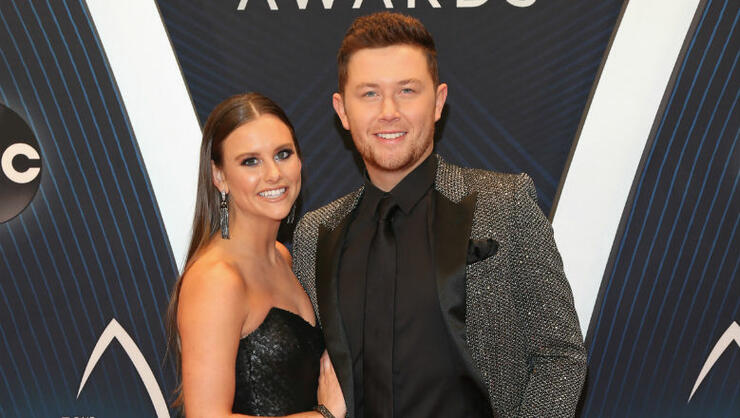 Just last summer, American Idol champ Scotty McCreery married his longtime love, Gabi Dugal, in an intimate ceremony and now the pair has a new addition to their family named Moose.
Over the weekend, the twosome took to Instagram to reveal that they've welcomed a new puppy to their family. In several shots posted to each of their accounts, the pair showed off their new canine friend to their followers. "2019 is off to a ruff start," Gabi captioned her post, before welcoming home Moose. Believe it or not, the adorable pup also has an Instagram account up and running with more than 11,000 followers. Click here if you want to follow the adventures of Moose McCreery!
Back in June, McCreery and Dugal tied the knot in a ceremony, which was officiated by the singer's childhood pastor. Not only did the two meet in Kindergarten, but they dated for more than six years before getting married. Fun fact: He popped the big question during a hike on their favorite trail near Grandfather Mountain, a moment that was conceptualized in a songwriting session for his current album, Seasons Change.
"The inspiration behind 'This Is It' was pretty much just the engagement," the 25-year-old previously told iHeartRadio. It's a love song for Gabi, and it's just laying out my plan at the time for the engagement. And luckily everything did go to plan. We've got a spot up in the mountains that we love to hike to. It's Little Lost Cove Cliff trail up in North Carolina behind Grandfather Mountain, and we stumbled upon it by accident one day. And now every time I go back to the mountains, we go to that spot and it's just a beautiful place, and we sit there for it seems like hours. And me and her just talk about life and all the crazy, deep topics you talk about. I knew from the moment that we went there the first time, that'd be where I'd proposed. And this song pretty much is all about our engagement."
Chat About Scotty McCreery & Wife Welcome A New Dog To Their Family